Last night, I got the urge to sew again. Seriously people, where is this coming from? I am surprising myself every day with how much patience and enthusiasm I have for my new hobby. Prior to November, I think I had actually finished one dress, and I only wore it once. It has sleeves and they're terrible, and I had to wear a jacket over it. Maybe I should dig it out of the basement and see if it's fixable. But yeah, the basement used to be where half-finished sewing projects went to die. Now I not only start things, I finish them! And I wear them! And they're well-made and fit and I'm super proud of them.
This pattern is another one that I got on eBay in the lot of seven 1960's dresses. I love the pink dress on the left so much - the boatneck, the swingy skirt, the bow at the waist. Adorable. I ordered this blue crinkle silk from Trim.com, and I bought lining fabric from Vogue Fabrics. They don't quite match, so next time I'll remember to bring a swatch.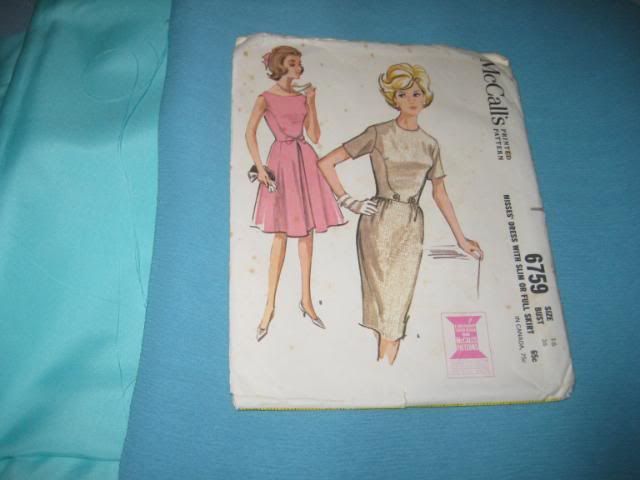 The pattern doesn't have a lining, but I decided to add one, and also underline the sheer blue silk. I started out first with the lining. I cut out my pieces. It's hard to cut delicate fabrics on the carpet. I think it's time I get myself a cutting table, or at least do it on the ironing board.
The bodice front had something I'd never seen before. Instead of sewing the princess seams like normal, you folded over the side front pieces 5/8" and then sewed it on top of the front center piece. The stitches are visible, like topstitching.
Which means - someone needs to work on their topstitching. I blame my machine a lot, but honestly, I cannot sew in a straight line. It's something I really need to work on.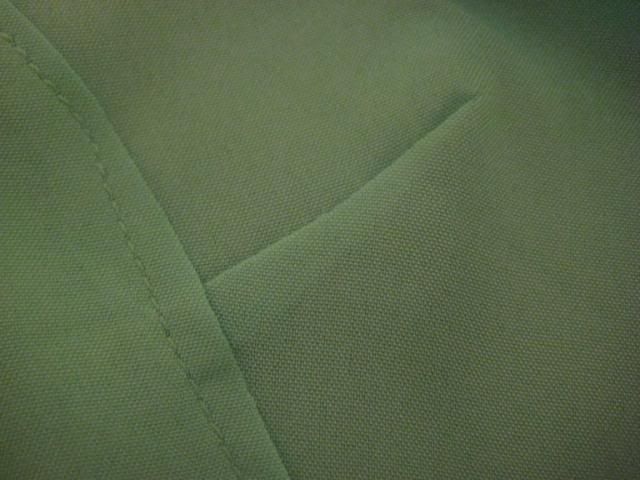 I got my bodice front lining put together easily.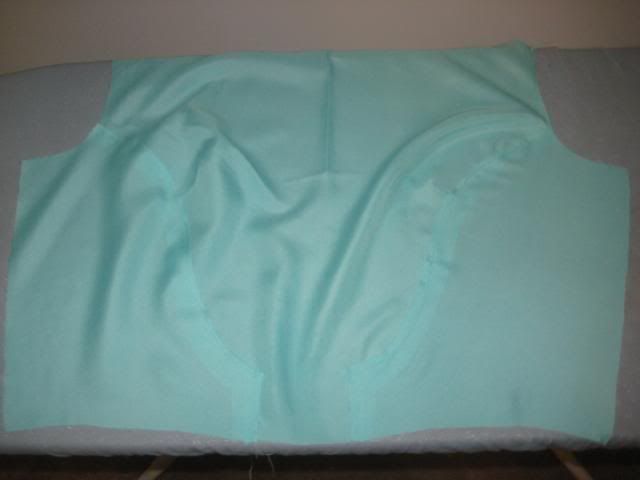 Next, I moved on to cutting out my underlining fabric. I ordered this online, and it was allegedly "ocean blue". I will not say what website I got it from since it was the first and only thing I ordered from them, and I didn't let them know there was a problem, so I can't complain about their customer service. It was a dollar a yard, so not worth returning. It was supposed to be my lining fabric, but it'll be fine for the underlining because you won't even see it.
Can you see the variation in color? My camera washed it out a little, but it looks like the bolt has been sitting in the sun for ten years.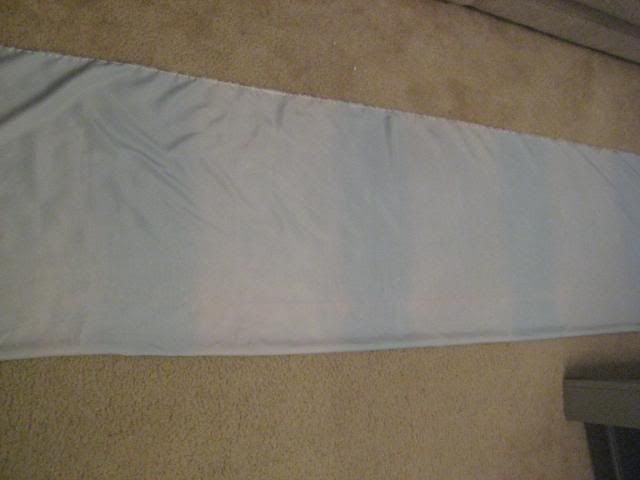 I cut out my underlining pieces, and then I cut into my silk.
I played around with my machine and did some test stitches to see what would work the best for sewing my fabric to the underlining. Overcast stitch is on the left, feather stitch is on the right. I don't think I have the settings right for the feather, it doesn't look like the picture in my manual.
Both were too bulky, so I just went with a straight stitch.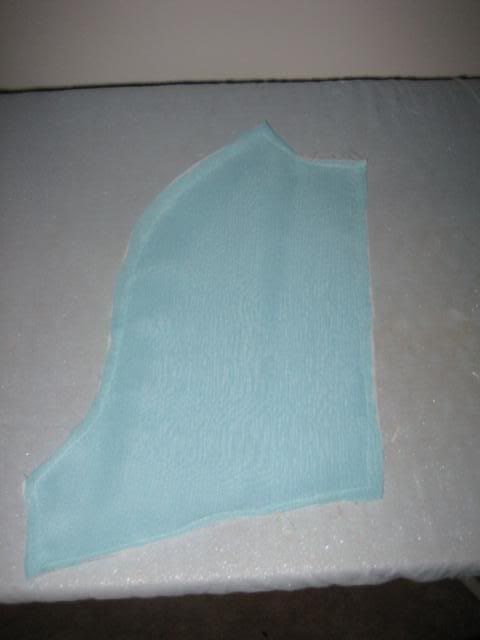 That's all I got done so far. Tomorrow I hope to finish the rest of the underlining and start piecing the bodice together.