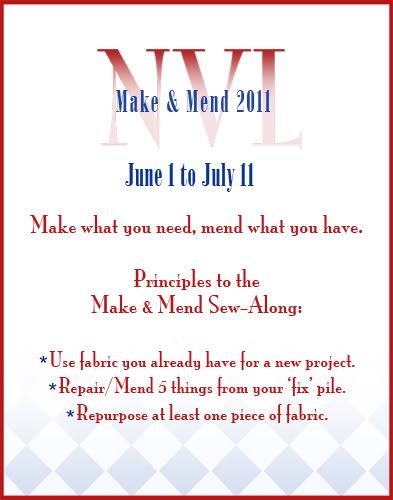 My fabric stash is steadily growing, as is my pile of unfinished items, so when
Shelley
announced this sew along, I was immediately on board. My husband has been making snide comments about the amount of fabric I've been bringing home from thrift stores, and even though I feel like I'm sewing something every week, the pile is getting out of control! I also realized that I have half a dozen unfinished projects that I either am too lazy to fix or have given up on.
I need to fix the zipper on one of my favorite homemade dresses. It came unraveled and I've been wearing it with safety pin holding it up.
I also started taking apart this vintage skirt with the intention of making the waistband a little bigger. It's kind of snug on me, so I thought I could cut a new waistband since there's about 6" of fabric in the hem. But, then I have to re-hem it. And my button holer sucks. So it sits, in unwearable condition.
This skirt is completely done except for the zipper, but I don't have one in the correct size and color.
This skirt is completely finished, zipper and all, but I got cocky while making it and never tried it on along the way. It's a good 2" too small in the waist. I've been toying with just giving it away...but I like it, and I have extra fabric, so I should just make a dang new waistband.
Finally, remember this guy? All that's left is one measly sleeve! I even have the facing already sewn on. I've just lost interest.
For my re-purpose, I was thinking of cutting this dress apart. It's Burda's Coffee Date Dress, and one of the first things I made when I took up sewing again. It's so poorly made, too short, and too high-waisted. I've always been sad about ruining that amazing piece of vintage seersucker, so I think it's time to give it a new life.
I've got the scraps saved, so I'm hoping I can eke out enough fabric to make this pattern. I've got the muslin started!