I woke up this morning to a bunch of snow on the ground - I didn't even know it was supposed to snow! After I shoveled, I decided I didn't really want to go anywhere today until 6:00, when we're going to a friend's house to watch the Packers game.
Perfect time to work on a dress, right? I did all the finishing touches on the bodice and started on the skirt. First off, I nixed my planned teal lining. It was feeling kind of bulky already and I didn't want to add another layer, and I always wear a slip anyway. I'm glad I did the underlining, as it definitely made the silk fabric more sturdy, and it is so warm! It was making my legs hot when I hemmed the sleeves.
First I did the neckline facing. I folded the raw edges over and ironed them, and then sewed it into place:
Clipped my curves:
And then understitched the seam to the facing:
I turned the facing in and pressed:
And hand-stitched into place:
Lastly, I did the sleeves. I trimmed them with blue lace seam tape, folded the edges up, and hand-stitched the hem.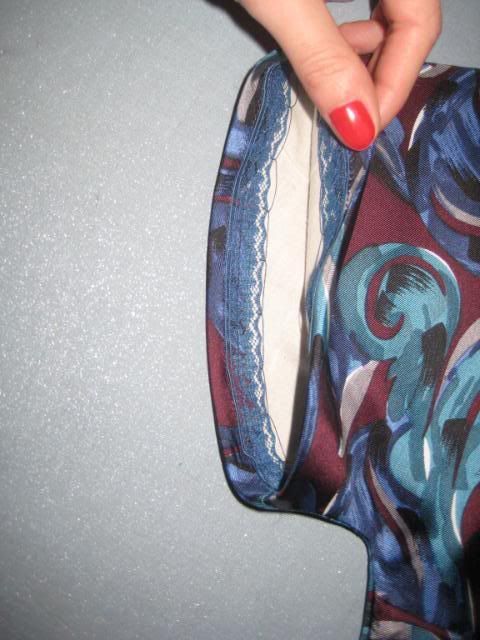 I sewed only through the underlining, so you can't see stitches at all on the outside of the sleeve.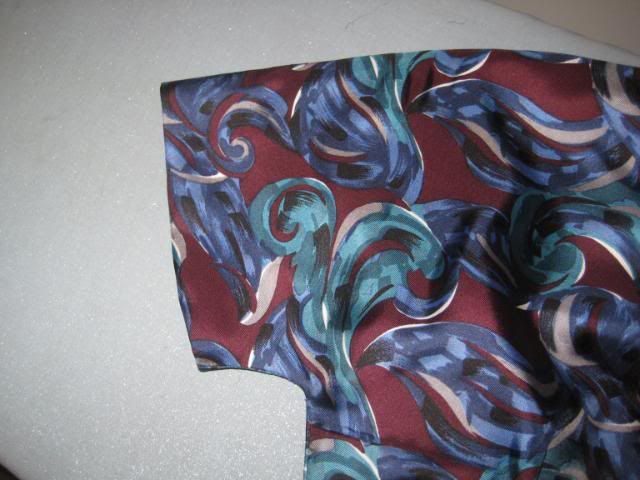 Hopefully I'll finish the skirt later this afternoon or tomorrow so I can wear it to work Monday. Go Packers!