Last weekend, Mike and I took a little trip to Southern Georgia. Mike's friend from high school was getting married, and he was a groomsman. Since his office has a plant down in Thomasville, he went down on Monday and worked for the week, and I met him in Valdosta on Thursday. It worked out perfectly because Mike's airfare and our rental car was expensed!
I got into Valdosta around dinner time, so the first thing we did was hit up the Smok'n Pig for some good southern BBQ. I got a rib 'n brisket combo with mac and cheese and creamed corn, and Mike went for a big old rack of ribs with fries and beans. We were so full afterwards there was no way we could go to a bar for cocktails (which was the original plan) so we just took a nice drive through Valdosta. We only got to spend a little bit of time there and I wish we had longer, because their downtown area is adorable and filled with cute restaurants and cafes and antique and consignment shops.
We drove past a place called "The Crescent", and I told Mike we had to come back the next morning and take pictures. It was so pretty! There was a wedding going on so we spied a little and took a few covert pictures.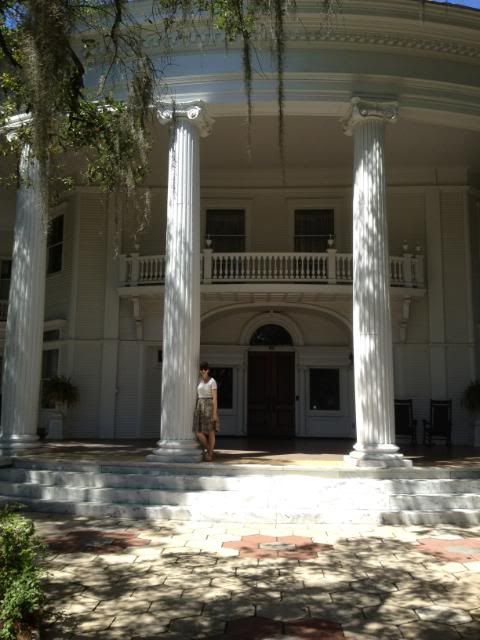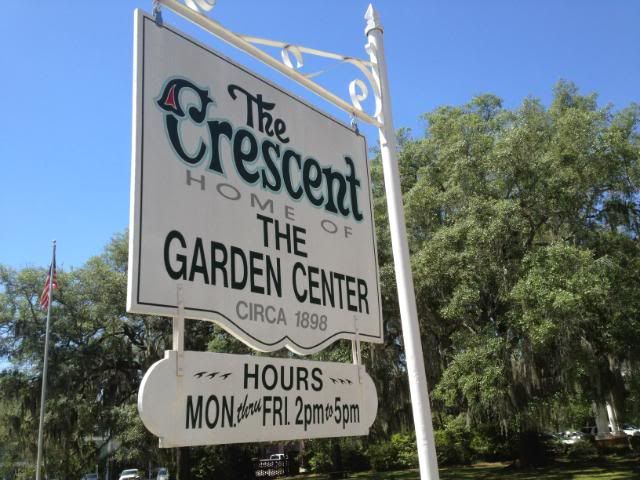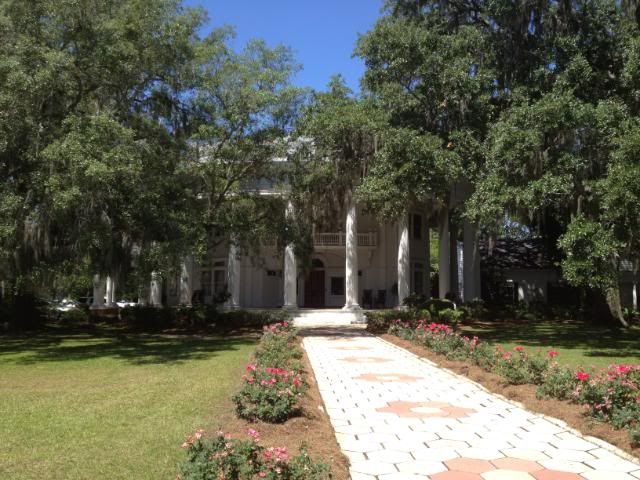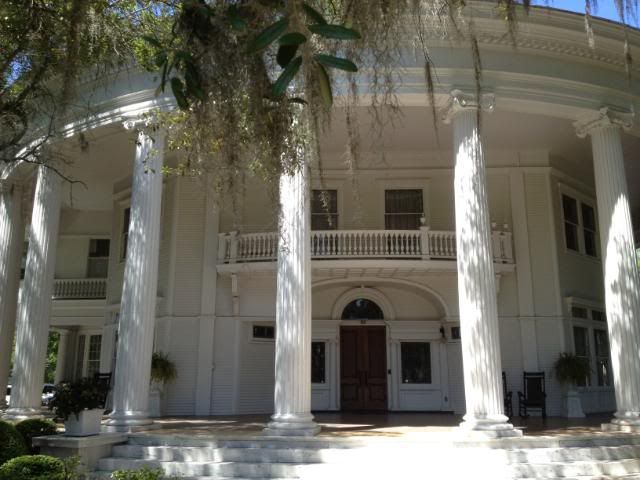 I love the Spanish moss hanging from the Oak trees.
We walked downtown, and there was was a band playing on the lawn of city hall, along with food stands and tables set up. How cute! Of course we stopped and got a burger and listened to the band for a while.
From there we had to move on to Baxley, which is where the wedding took place. I don't have too many nice things to say about Baxley, so I'll keep quiet. It was a sad, lonely place. Anyway, the rehearsal dinner was at a steakhouse on a river, and it was really good. I haven't had a steak in ages, and it came with those awesome french fries that are basically just a whole potato with the skin cut into strips. Mmmm. I was way overdressed but I don't care. I had a whole suitcase packed full of things I thought someone on a trip to the South would wear, and I wanted to wear them!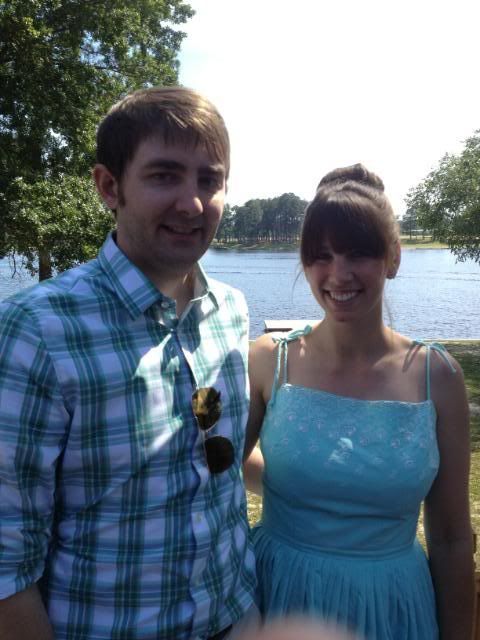 I also had fried alligator! It was good. It mostly just tasted like fried.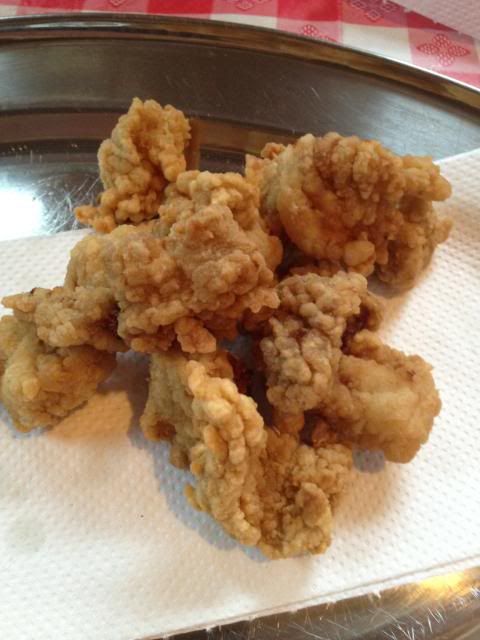 The wedding was on a lake at a lodge. I didn't know what to expect, but it was really pretty. The weather was perfect, and the ceremony on the pier was nice.
I wore my favorite dress, which is from the 60's and the brand is "Sport Time". I would love to see someone play sports in it! I am also bucking the "no white before Memorial Day" rule. I really wanted to wear my new white shoes.
The wedding ended at 6:00 p.m., so instead of spending another night in Baxley, we headed to Savannah. We got in pretty late so we checked into the hotel and then went out for a beer. Did you know that in Savannah, you can just walk around with an open drink? Love it. We were in the Historic District and there was a square (Savannah is FILLED with squares) called City Market, where there were bars and stores and a band playing and people dancing. Mike said it reminded him of New Orleans but without all the drunken tomfoolery, and is going to suggest it to his friends for their next guy-cation.
Sunday we had breakfast at the hotel, and then headed out to some antique stores I wanted to check out. I didn't really find anything good. I was hoping to find some sewing patterns and notions and maybe a vintage dress, but the only thing that came home with me was this little guy for $3.
From there, we took a trolley tour that went all over the city. You could hop off and on at any point to explore, but I was feeling lazy and so we just stayed on for most of it. While waiting for the trolley, we stopped to take some pictures. Mike told me to "look sassy" and so I did jazz hands? I need to stop being so awkward in front of the camera.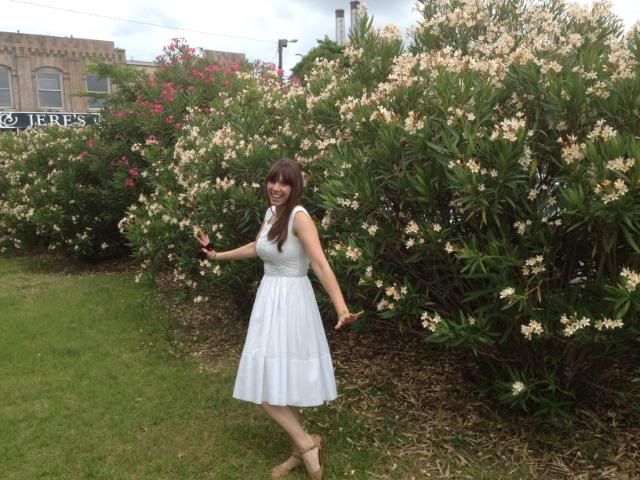 Mike wanted his picture taken at this sweet fountain.
After the trolley tour, we walked down to River St. I think that was my favorite part. A narrow cobblestone road filled with shops and monuments, all along the river. We bought some pralines to take home, and a couple pairs of sunglasses because Mike forgot his in the hotel. Mostly we just walked around and took pictures.
Mike's main goal was to find Wet Willy's, which was a bar that only served alcoholic slushies. We found it and got one to go, and damn was it good. I got melon and Mike got blue lemonade. It was the perfect frozen treat for a hot vacation day.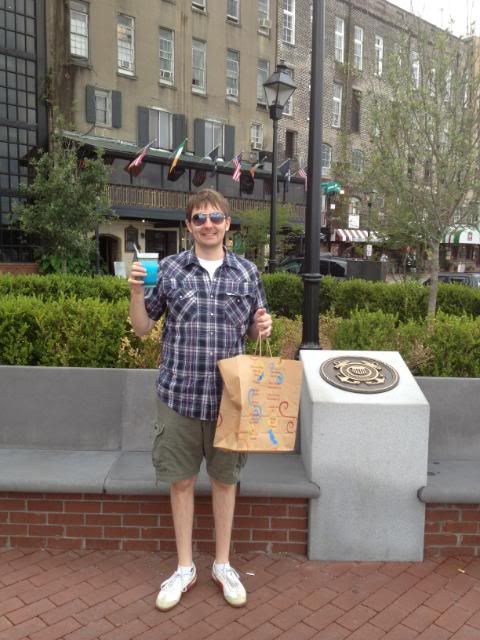 After we tired of River St., we headed back to the City Market for some pizza. I got vetoed on my old standby of pepperoni and green olives, so we had feta, salami, and sundried tomatoes. It was SO good. I love pizza, and this one was tops. Our room didn't have a fridge, so we ate it all because it was too good to leave behind!
Savannah had really pretty ring light, so I couldn't resist taking a picture. Also, that's my new bracelet. I got it at a consignment store in Milwaukee for $12 and I haven't taken it off since.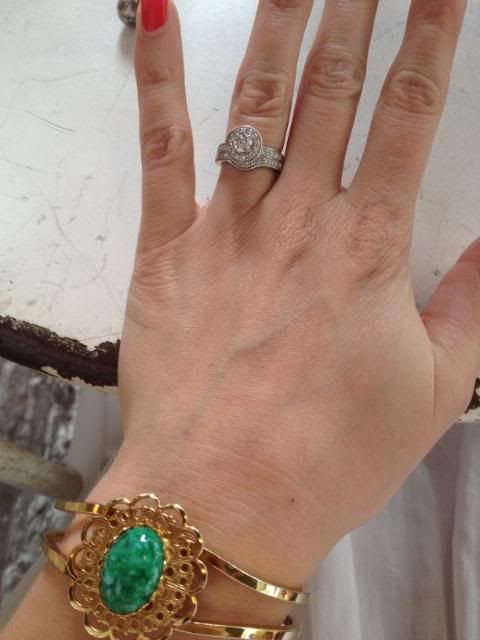 We ended up staying in that night and taking it easy and watching Mad Men. I don't think either of us could eat another bite or attempt to drink! It was a great trip and I'd love to get back to Georgia when it's just the two of us and we don't have a wedding. There were so many antique stores I had to pass up!