I promise some sewing happened this weekend, and I'll do a post about that soon. First though, I wanted to share a few things I found this weekend at the
Elkhorn Flea Market
. I've been looking forward to it for months because I heard it was not like your average flea market with rusty tools and packs of socks and Super Shammy's. They hand-pick 500 vendors and the focus is on antiques and vintage.
I had no idea what to expect, and I had only allotted myself and hour and a half to look and then I was meeting a friend to go for a run. I wish that I would have had several more hours, and also more money! I only brought $80 but I spent it pretty quickly. I didn't have time to get through everything. I barely made it through half! I only hit the outside vendors and didn't go into any of the buildings. Luckily there is another one on June 24th and I will be sure to reserve the whole day for browsing.
The first thing I came across was a bin of pastel embroidered fabric. Nothing had prices (and I hate to haggle) but I held up a piece and asked "how much?" The lady running the booth was like "it has a couple stains. How about $5?" Are you joking? I wanted to hug someone. There is like 8 YARDS. I can work around that stain, yo. I ended up grabbing these two pieces. They are just begging to be made into a poufy 50's dress, aren't they?
Next up, I found this gold trimmed milk glass tray for $2. My Mom has the same one and I've always loved it, and I even had a few in my Etsy favorites but they were going for around $10 plus shipping. This one was nearly free!
Then I walked around for another hour with no purchases made. I found some days of the week tea towels but for $24, I passed. Then I found a navy and white polka dot romper from the 60's that was my vintage size and looked like it was going to fit perfectly. I paid $30 and I should have haggled, but oh well. I loved it and changed into it immediately, and wore it the rest of the day. I didn't get a picture! But it will make a lot of appearances this summer so I will make sure to snap one.
I was running out of time so I started walking towards the exit. One of the very last booths had the prettiest 40's floral linen shorts hanging at the entrance, along with a bin of lacy delicate underpinnings. I stopped to browse and then I saw IT. This is the dress I had in my head three years ago for my rehearsal dinner but didn't exist in my size and price range. I seriously checked eBay and Etsy for something similar every day for a year! It didn't have a price tag (and everything else in the booth did) so I was prepared for her to say $200 or something outrageous. Instead she said "How about $30?" Are you kidding? I was prepared to pay triple that. UM, YES! It's like it was put there just for me. It fits PERFECTLY and I'm going to wear it for our anniversary next week.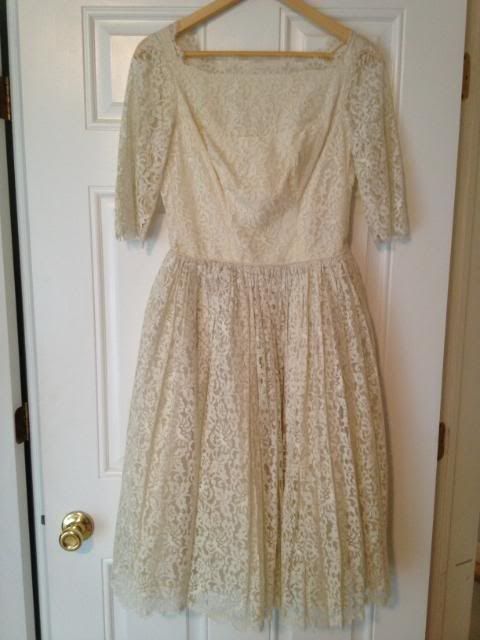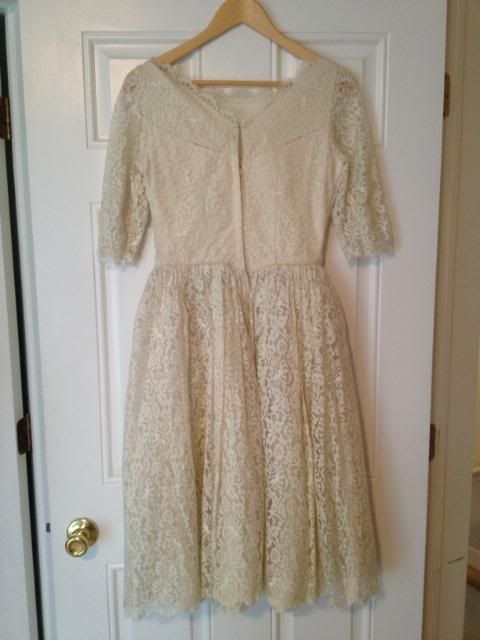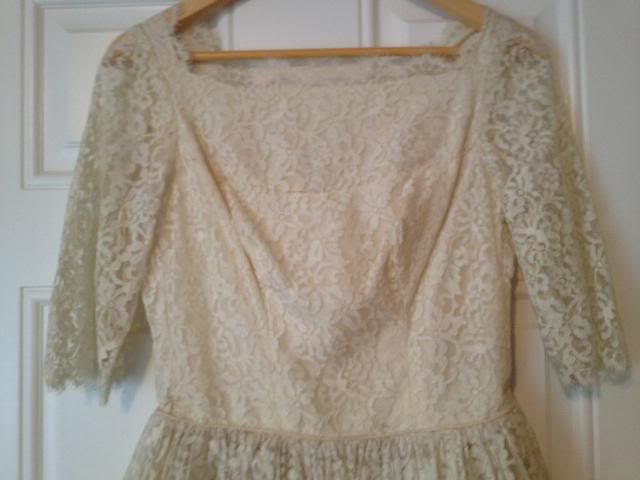 Someone had sewn in modesty panels over the lace bodice. I debated leaving them in because then I could wear a normal bra with it, and I wasn't sure how delicate the lace was, but I ended up removing them. It's much prettier with the neckline open, and I can easily wear a strapless bra.
Some other less exciting things I found were:
Embroidered vintage blouse.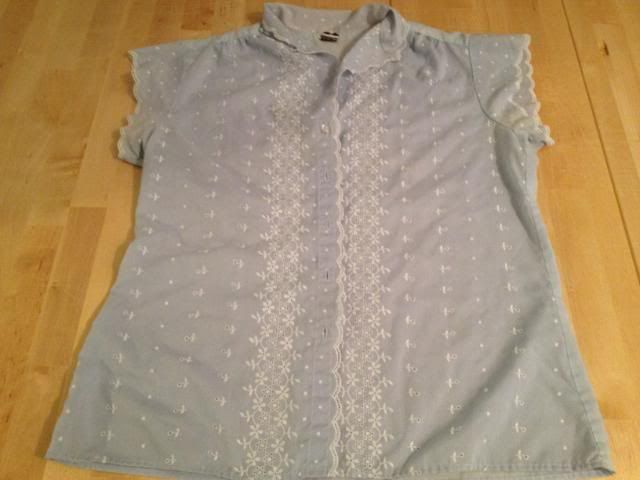 Vintage pleated wool skirt. I won't get to wear this for a few months, but I loved the colors and the gold thread, and for $3, I had to snap it up.
Gingham apron with a floral applique.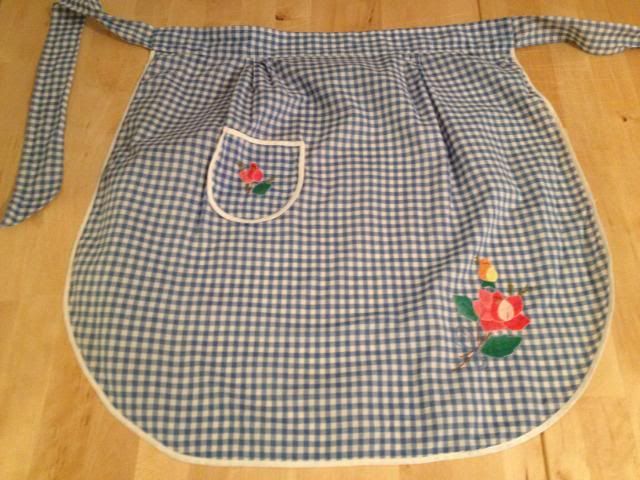 60's square dancing skirt. It looks gray in this picture but it's really the loveliest pale lavender.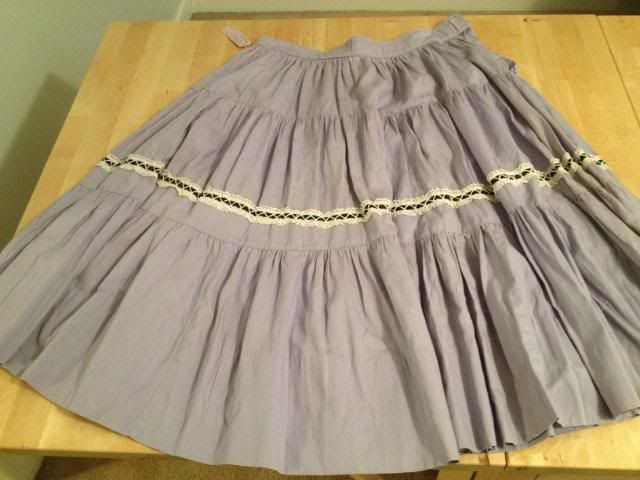 I'm so happy with my finds!