I think I'm addicted! I checked out Craigslist last week for estate sale listings, and I found one that said "TONS OF FABRIC". In caps, just like that. Um, yes! Unfortunately it started on a Saturday and I was going to be out of town, so I went by first thing Sunday morning hoping there was still some gems left.
The house was so cool. It was an old white brick farmhouse built in 1860, right in the suburbs surrounded by 1970's ranches. The owner's daughters were there and were telling me a little bit about it. They were really surprised to find out I was there for the sewing supplies. I guess most people aren't used to someone young being into sewing.
All the prettiest fabrics were very small pieces, so I didn't get much. What I did get is really nice, though. Lots of floral seersucker, and a big piece of bright tangerine-colored organza.
That white and aqua border-print gingham is going to become a skirt very soon! The white seersucker with rosebuds on the right is a HUGE piece, so I'm thinking a full-skirted dress. The pattern is my size but not really my style, but for as cheap as it was, I couldn't leave it there.
The lady was a sewer (obviously) and the daughters were showing me some of the things she made. One of them was a green belly dancer outfit with a huge skirt, a bra, and a chain belt. They said that they'd all worn it for Halloween at some point. They were really trying to talk me into buying it, but what am I going to do with a belly dancer outfit? It was super pretty and for $15, I hope someone took it home.
This blouse is homemade, and was $5, so I snatched it up. The camisole on the left was from the previous week's estate sale and is too delicate to be worn, so it's become sewing room decor. The pintucked blouse actually does fit rather well, but the high neck isn't really flattering on me. The detail is amazing, though, so right now it's hanging in my sewing room for inspiration. The lace yoke is all hand-crocheted, and it has the prettiest glass buttons up the back.
I also found this homemade tropical-print backless sundress. I think it was around $3. The elastic had lost it's stretch, but I fixed that easily. It fits great and the open back is super sexy, but I am having bra issues. As in, I need to wear one, but how? I was thinking of altering it so that it buttons instead of ties, which will make it wide enough to conceal a strapless bra. Otherwise, it might end up being a beach dress, which is okay too. It came with a matching short sleeved button down, which I cast off to the side thinking I would never wear it, but I tried it on with jeans and it's pretty cute! I might have to give it a shot.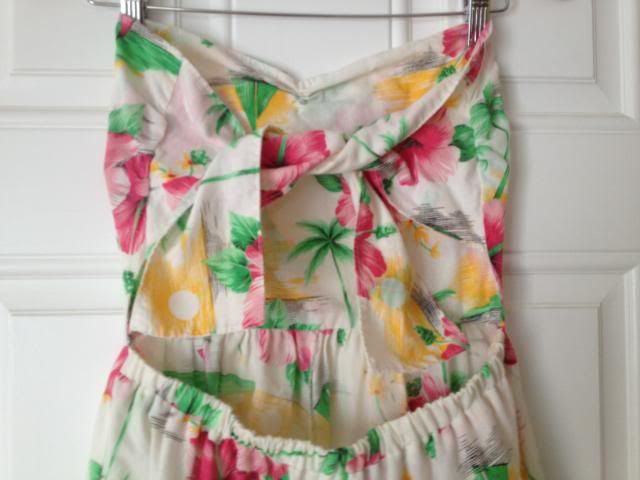 And saving the best for last, I got this amazing 50's swimsuit for $10. And it fits PERFECTLY. I'm in love. I've been trying to buy a vintage suit on eBay for ages, and they are either listed as Buy It Now for waaaay more than I want to spend, or they start out affordable but I get outbid.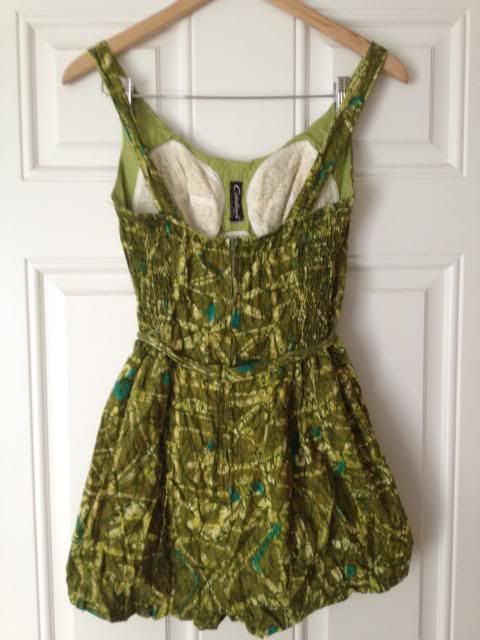 I think estate sales are going to become a regular summer hobby!