Hi! Happy New Year, everyone! I know I have been MIA for a while, but I can never resist a year-end rundown or a hits/misses list. I haven't necessarily been taking an official break from sewing, but I have been spending a lot more time tailoring or altering clothes I already have. I recently took two HUGE boxes of clothes to Goodwill and it made me feel bad about how much stuff I have. So I am trying to make do with less. Also I have been going to the gym a lot lately, and I noticed that when I work out a lot, my sewing suffers. Conversely, when I sew a lot, my working out suffers! I seem to only be capable of having two hobbies at a time (and cello will always be my #1 focus). So without further adieu, here are my bests of 2013!
#5: "All The Way Mae Halloween costume.
Is it unfair to put a costume on my list? I am doing it, sorry. I love this costume so hard. I ended up wearing it FIVE times. I went to two parties the weekend before Halloween, one the weekend after, and then I wore it to orchestra rehearsal the night before Halloween and to work the day of. I was so sad when I had to pack it away! I wish there were more times in year to wear a costume.
#4: White Eyelet Sewaholic Alma.
I've made a couple Alma's in my day, but this summery white eyelet is my A#1. I wore it to death this year and I am already counting down the days until I can pull it out again. I love that it's simple but not boring for days I really just want to wear jeans.
#3: Colette Patterns paisley rayon Chantilly.
If you would have asked me earlier this year what my #1 was going to be, I for sure would have said this dress. It turned out so nice, better than anything else I have ever made. The reason it has slid down to #3 is because I lost some weight since I made it and it's a little loose now, and it seems really daunting to try to take it in. So many seams! So much lining! It is still a great dress that I have worn a million times, but it's not quite as flattering as it used to be.
#2: Patriotic Vintage Simplicity.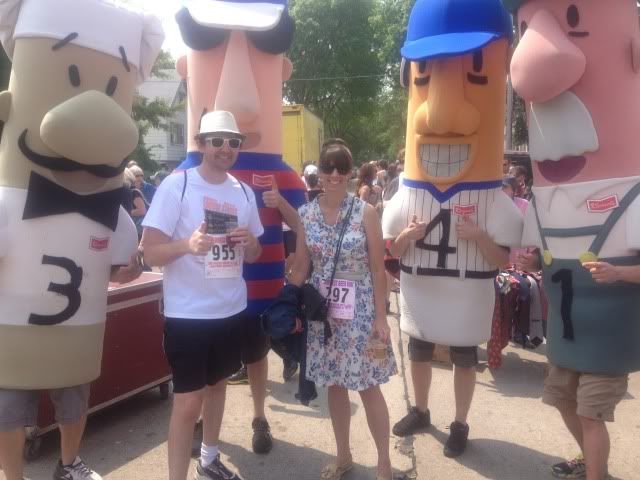 Based on my tagged photos on Facebook, you would think I wore this dress every day this summer. I probably did! I have made this Simplicity pattern quite a few times before, but this one is my favorite. This is one I entered in the State Fair (and won a ribbon for women's one-piece dress) so I made sure everything is finished impeccably. I hand-picked the zipper and bound every seam with a cute contrasting bias binding. Even though it's way too cold to wear now, I couldn't bear to pack this one away in my summer tub. It's still in my closet, waiting for a warm day.
#1: RE-re-make of vintage blue coat.
My second attempt at remaking my vintage blue coat is by far my #1 favorite item! I wore this well into December and froze my butt off, but it was worth it. It brightens up every outfit and just makes me so happy. It's a perfect replacement for my beloved. Also, here's a bonus shot of my new short hair! It's been about two months since I cut it, and I still really love it. I miss my bun on weekends, but it still fits in a ponytail.
Happy 2014, everyone!