A few weeks ago I had the honor of being a pattern tester for
Christine Haynes' new pattern
, The Emery Dress! It's been hard to keep it a secret for so long but we just got the go-ahead to blog about it. I was lucky enough to meet Christine this past January at Sew L.A. at the launch of Gertie's book. She was wearing the most incredible black, white, and yellow rose print dress, which of course she made. I am thrilled I get to make my own version!
When she emailed me and said it was a 60's style cocktail dress, I knew exactly which fabric I was going to use. I bought this from Fashion Fabrics Club for my remake of my beloved blue coat, but when it arrived, it was the totally wrong weight and feel. I'd been saving it to use for a Jackie O-style cocktail dress. Okay, let me tell you about this dress. It's basically the perfect bodice, with endless customizable options. There's short sleeves, 3/4 sleeves, an optional peter pan collar, and optional bow belt. I went with the short sleeves and the bow belt. I pretty much hate sleeves, but these were a dream to set in. It has the perfect amount of ease and I did both without having to unpick and redo anything.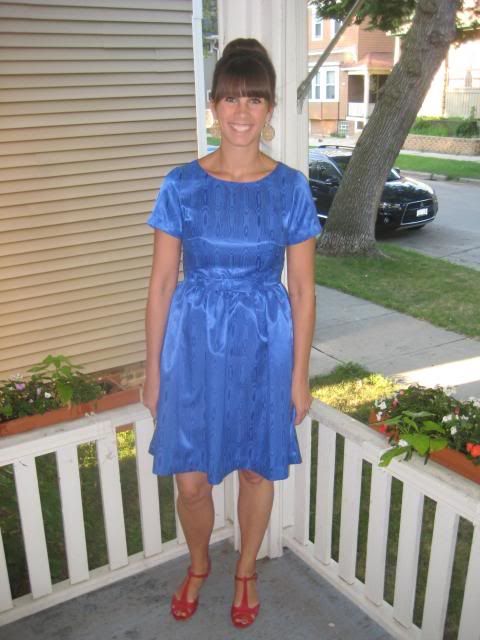 The neckline is suuuuuper flattering, and I love how full the skirt is. See? Perfect amount of poof!
It zips up the back with an invisible zipper, but since I didn't have one, I used a metal zipper and a lapped application. It looks real good. I unfortunately did not notice the line of fading along where I cut my back pieces! Boo! I don't know if I would have had enough fabric to work around it, but I sure would have tried. I don't think it is TOO noticable, so I will pretend like it doesn't bother me.
I was asked to cut the size 8, which I did without making any alterations. I normally do a full bust adjustment, but I wanted to make this pattern as-is so I could send my feedback to Christine. It's a little tight and I could use an extra inch of wiggle room, but it's not uncomfortable. I'm already making a second dress, this time with the 3/4 sleeves, and I did do a little adjustment in the bust. The dress is also lined, and has pockets. I know a lot of people are pretty crazy for pockets, but I'm just not into them. It's not that I find them difficult to sew or anything, but they're an extra step and I don't really ever use them. I always have a purse, and I never really stick my hands in my pockets. So for future versions they will be eliminated. I wore the dress out for my Mom's birthday and I felt so cute in it! I got a lot of compliments too. So if you want to make your own super cute Emery dress, head on over to
Christine's shop
because it's in stock now!