I am totally in beach sewing mode. Every day, I sit at my desk at work wishing I was home sewing pretty skirts and dresses for Mexico!
I've had this pattern for a few months but haven't made it yet. I bought it on eBay after thinking it would be nice to have some easy, simple dresses to just throw on, but it kind of got put off to the side after my first "simple" dress disaster.
On Sunday night, I started on my first version in white lace.
Here's the details:
Pattern: Simplicity 8181, $2.50 on eBay
Fabric: Thrifted tablecloth, $2
Lining: Tablecloth I found in our basement, $0
Notions: Vintage metal zipper, $.50
Total Cost: $5
Year: 1969
Time to Complete: 2 hours









This dress was really fun and easy to make. I've had this thrifted lace tablecloth laying around forever; I think I bought it at Value Village in 2003 with the intention of knocking off a Banana Republic skirt. But back then, I was irresponsible with money and ended up just charging the skirt (I wore it to death, at least) and the fabric laid unused. It's really sheer, so I definitely needed to line it. I found this tablecloth in a box in the basement and it was my husband's. I asked him if I could cut it up and promised to buy him a better one, and he sort of looked confused but said fine.
For a mini-dress, this pattern piece sure is long! I wanted it to be short and leggy, so I took about 4 inches off the bottom.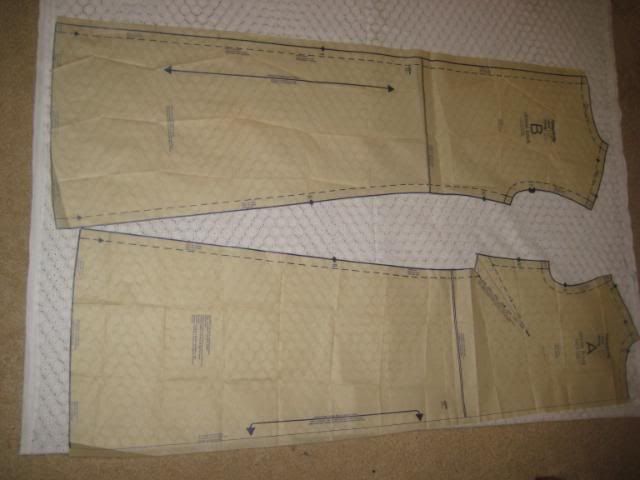 Instead of making the lining separate from the dress, I underlined it. I like that better for sheer fabrics, because then you can't see the seams.
Here's my back pieces, underlined. There's no shaping on the back; actually the only shaping is two darts on the front.
A closeup of my dart: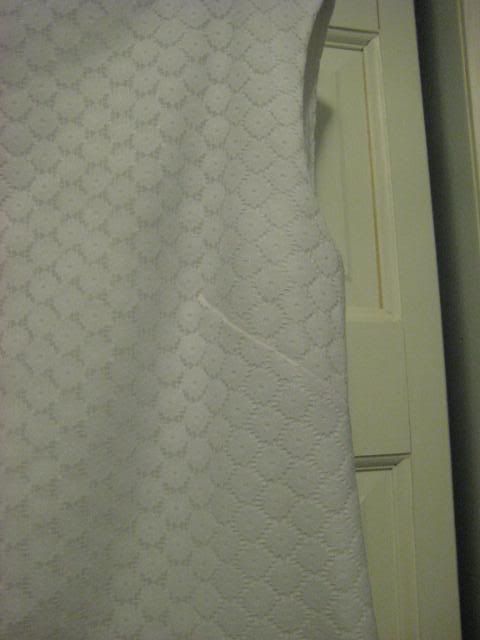 And my neckline facing: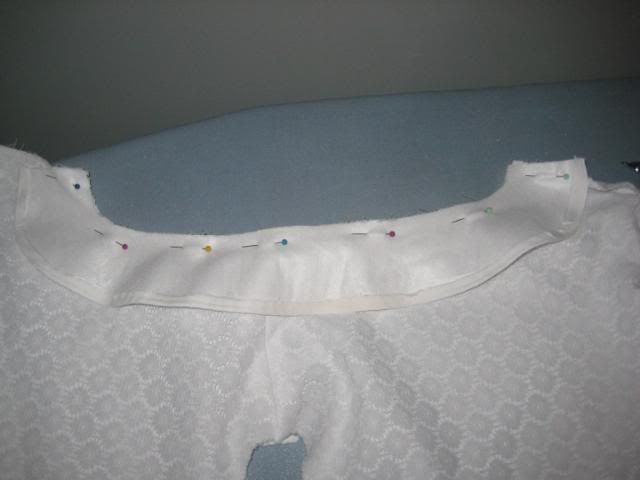 There was a neckline facing and two armhole facings, and they were easy, but a pain. You had to interface them, fold the long edge under and topstitch, sew it to the neckline/armholes, clip the curves and pin the facing back away from the bodice, understitch, and then hand tack the long edge to the lining. Whew!
For my second version, I wanted to make one more like the picture on the envelope. I'm always drawn to that color green, but I don't actually own anything that color!
The deets: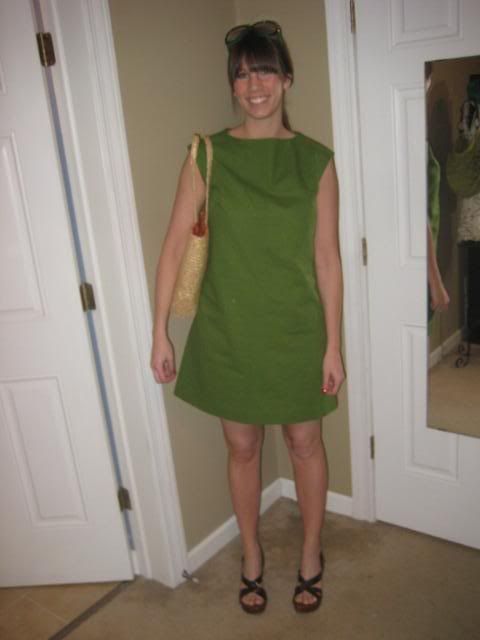 Pattern: Simplicity 8181, $2.50
Fabric: White linen/rayon blend from Joann's, $11.78
Lining: White Symphony Broadcloth, $7.98
Dye: Rit Kelly Green, $3
Notions: Black Metal Zipper, taken off another dress
Total Cost: $25.26
This one was fun because I got to dye the fabric myself. Joann's is good for supplies, but I'm always disappointed by their lack of good apparel fabrics. They really are great for quilting, I'll give them that. I've bought some of their cotton quilting fabric for sundresses. I probably could have ordered something online, but you've probably figured out that I'm impatient and when I want to make something, I want to make it NOW.
I made a slight adjustment to this dress in that instead of taking 4 inches off the hem, I took it out of the waist. There was a "shorten or lengthen here" line right below the front dart. I like how this one turned out much better - the skirt is fuller at the bottom and fits better across my booty. The white one is a little tight. I also added a lining instead of doing the neck and armhole facings. Even with double the dyeing and cutting and hemming, I think it was faster, and it looks a lot better. Plus, I love to hem things. I think it's my favorite part of sewing. It's relaxing, and it also means it's done and I get to wear it!
I think I'm going to take a break from sewing tonight and make tacos and watch American Idol (it's in Milwaukee tonight) but I have two patterns I'm dying to get started on. One is a wrap skirt that uses a whopping 3 yards of fabric (that is a lot for a skirt, I could make an entire dress with 2), and the other is a cropped halter/skirt combo. 'Til tomorrow!