Hi Everyone!
Orchestra started yesterday, and it has already seriously cut into my sewing time. I haven't gotten anything done since Monday. I did finally get around to finishing and photographing my McCalls 1960's plaid dress, and I wore it on Tuesday. I know I promised pictures of me wearing it, but I failed. My mannequin will have to suffice!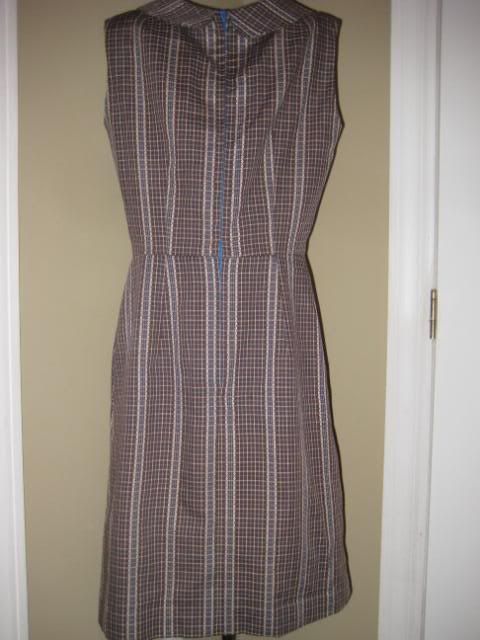 I love the bias cut side bodice pieces, and I'm so glad I listened to the advice of my readers! I think it's one of the best parts about the dress, other than the collar. I wore it to work yesterday with a royal blue cardigan, brown tights, and knee high boots, and it was the perfect work outfit. It's comfortable and fits great, too.
My friend MaryLee went to a thrift store last week and came home with an entire bag of vintage fabric and zippers. She always lets me raid her stash, but I thought I could try my luck at finding a gem, too. I haven't been thrifting in ages, so today at lunch, I hit up the Salvation Army and The American Council for the Blind. My first stop was pretty fruitful. I spent $12 and got quite a few large pieces of fabric.
There's at least 10 yards of this green rayon print. It was so much I couldn't get it refolded after I washed it. The selvedge says Copyright 1991 so not super old, but still a nice piece of fabric I could make a 40's inspired dress out of.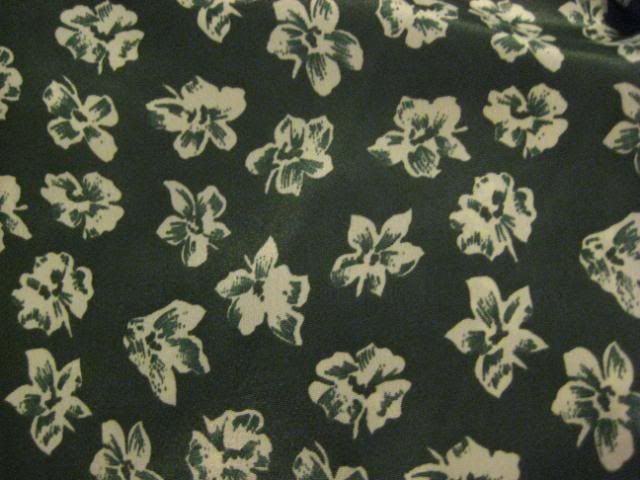 Next up, I got an equally gigantic length of this cheery floral print. It feels like a poly cotton blend, and would be perfect for a 50's housewife kind of dress. I've already added some pattern candidates to my eBay watch list.
Next up, I grabbed this king sized sheet for $2. I know some people might that that is a little gross, but I washed it! I love the eyelet ruffle and I think it would look adorable as a trim for a skirt lining. And I can always use the tons and tons of white fabric for practice. Think about it - if you bought fabric from Joann's to make a tester, it would cost you at least $6. This was $2, and I could make like ten muslins out of it.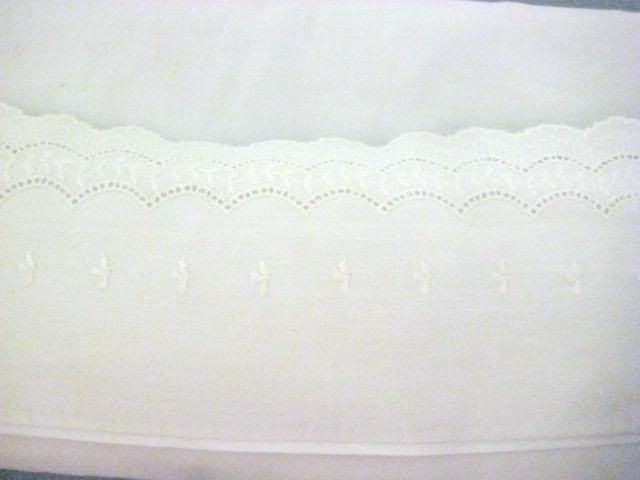 Finally in the fabric department, I got this strawberry print tablecloth for under a dollar. You all know my penchant for making dresses out of tablecloths, and I'm pretty sure this one is going to be awesome.
Lastly, I picked up a gigantic grab bag of lace pieces for $3. Most of them were kind of junky and I won't use them, but these three pieces make the whole bag totally worth it.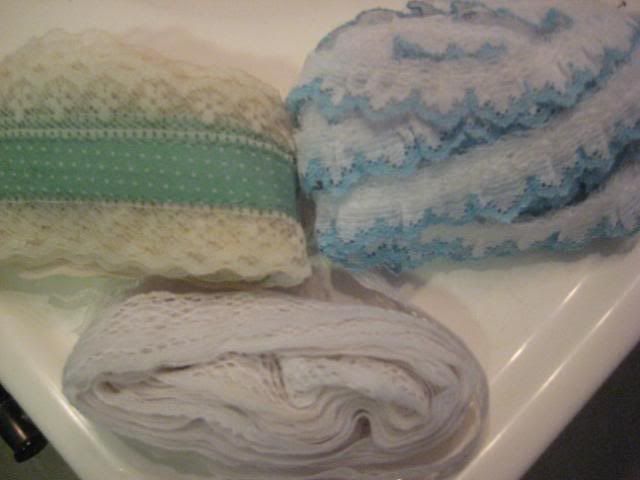 Next up, I hit the American Council for the Blind. On first pass, I didn't find anything (I always check the dresses, even though I've maybe found three actual vintage dresses that I wear on a regular basis). Then there was a section called Boutique Clothing, and there IT was. The cutest vintage 50's cotton day dress in immaculate condition.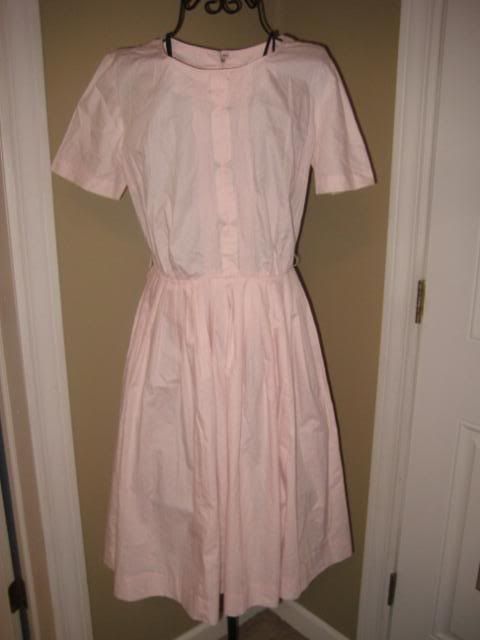 I seriously love easy, casual dresses like this, and I live in them from April to October. I think this one will get a lot of wear this summer. Look at the cute details!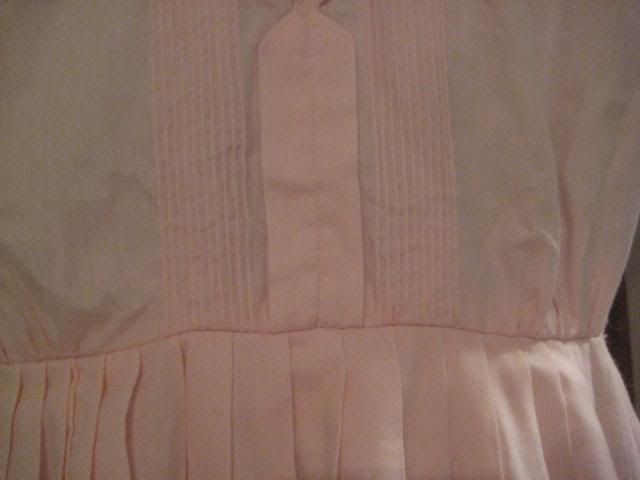 I managed to spend $35 there, which I probably the most I've ever spent in a thrift store in my life. Most of that was spend on these, though. They were $20. A little pricey, but I love them and I actually do need purple earrings, and it supports a good cause.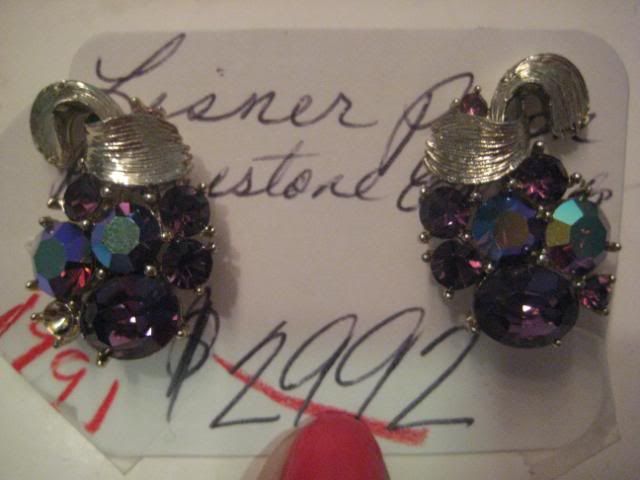 In the fabric department, I picked up two big grab bags for $2.50 apiece. There was a lot of junk but a couple gems. Namely two yards of gold silk dupioni. After a good pressing, I think this will make one hell of a cocktail dress.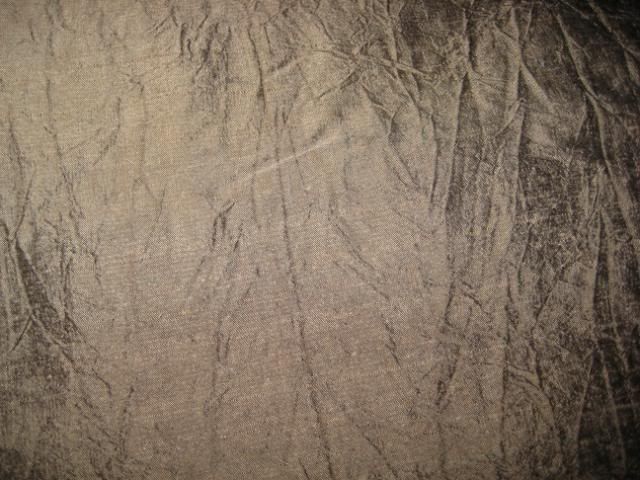 There was also this soft green knit.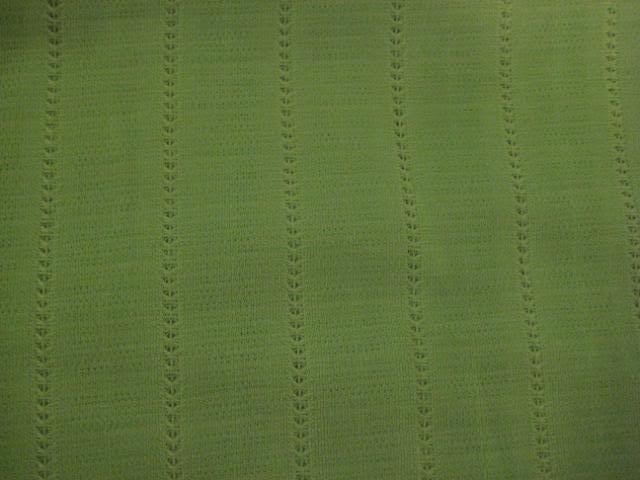 And a lovely blue and green plaid wool.
I didn't find any zippers or bias tape or patterns, but I think I did pretty well!