I'm almost done with a project that I'm really excited to share with you! It's the kind of dress that you need an occasion for, but being the holiday season, I have plenty.
In the meantime, I thought I'd show you some of my cool eBay purchases. eBay is a great place to get vintage patterns and sewing notions on the cheap. You just have to be patient and dig through a lot of junk to find a treasure.
Seven vintage wiggle dress patterns, all complete, all my size. Guess how much? $5. These are all mine for the cost of a fancy coffee from Alterra.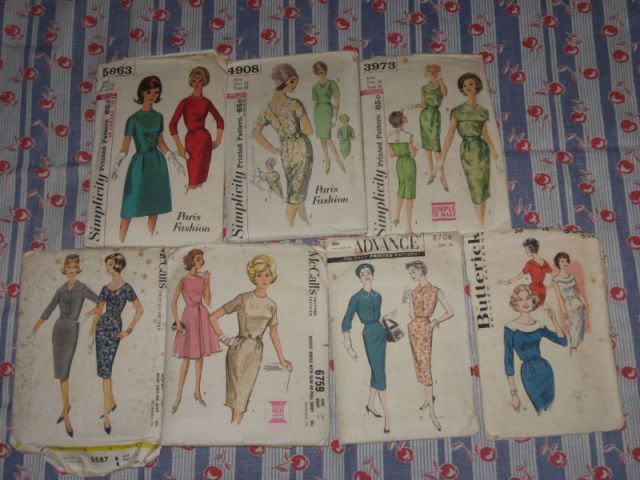 I also bought this lot of mod 60's dresses. The 60's aren't so much my style, but they were my size and the price was right, so I will give it a try. They seem simple, and my wardrobe is really lacking simple, easy pieces I can throw on without a lot of thought.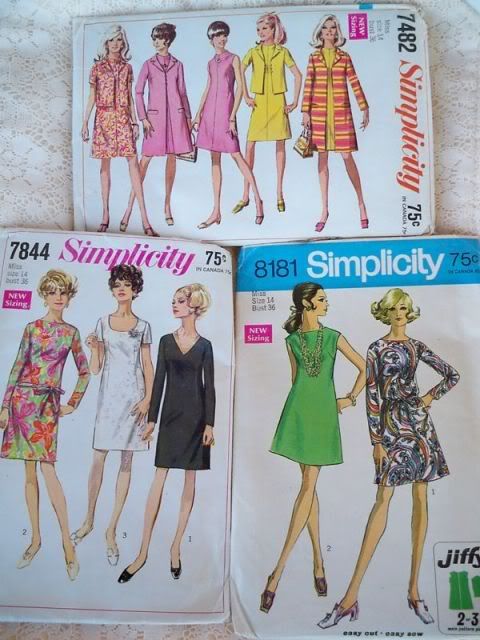 For $12, 24 vintage metal zippers in varying sizes and colors. I love metal zippers and it sort of pains me to put nylon zippers on my dresses. If that hot pink one is the right length, I'm taking the nylon one off my
Christmas Eve
dress and replacing it.
And finally, three yards of vintage rayon fabric. I haven't decided what I'll make out of it yet, but chances are it'll be one of the vintage wiggle dresses above, maybe the bottom left one?
I had a serious eBay heartbreak yesterday, too. The auction ended in 1 hour, had no bidders, started at $19.99, and I FORGOT to bid. My heart sank when I logged in and saw that it had been won for $21.05. 13 yards of mid-century rayon fabric in Fall/Wintery prints could have been mine and I forgot.
I promise tonight I will have an update on my fancy dress. I will need your opinion on trim so feel free to comment away!