I didn't go to work on Friday, so this weekend has been so confusing. I thought Saturday was Sunday, and I thought today was Saturday. I wish! I have to work Monday -Thursday this week, and then I am off until the following Wednesday.
I took inventory of my projects today and this is what I have coming up. I'm not sure what I'll wear this for, but I love the V-shaped pleat and I couldn't resist this green shantung that looks exactly like the pattern envelope. I had a 50% off coupon so I went today and bought the fabric, along with some green bias tape and hem tape, since I didn't have any in my stash. The fabric is normally $17.99/yard, and I only needed two, so this whole dress will cost me right around $20.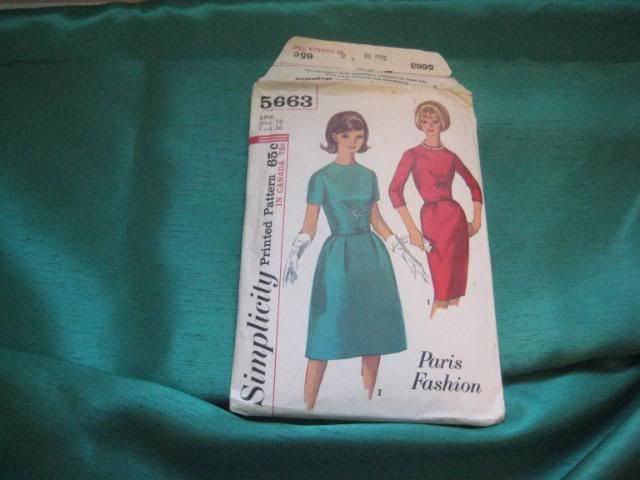 I also have this full-skirted wrap dress pattern from Vintage Vogue. It's kind of daunting because you need almost five yards of fabric, but I have at least six of this navy crepe with a deep red cherry print.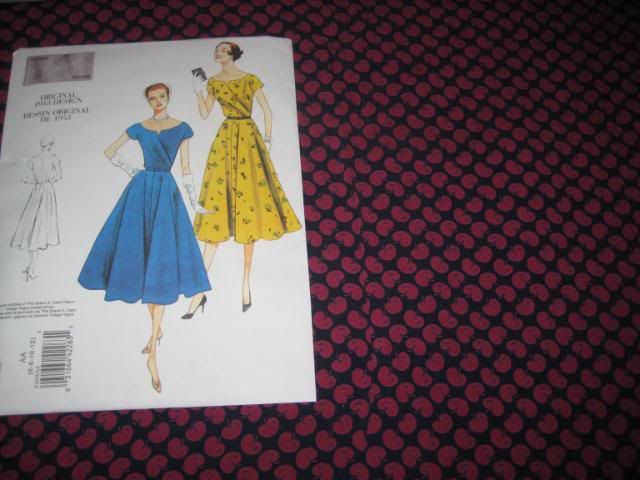 The next thing I'm going to do is revamp the
chain-print shift dress
. Even though my friend Kate said I should finish it, I just wasn't feeling it. I measured and I should have exactly enough fabric for this Butterick Retro pattern. I even have the perfect size baby blue metal zipper. I stopped at Jo-Ann's today and picked up two yards of light blue lining.
I had some free time yesterday, so I knocked out a quick work dress. I used one of my early 60's patterns I found on eBay, and the red fabric with the cream crescents I also got on eBay. I thought I'd take a minute and explain what I mean by "curved seams". This is a bust seam that's usually in place of darts to give your bodice shape. I like them better than darts, I think they give a better fit. They can be a little confusing if you've never sewn one before. When you lay your pattern pieces together, they look like they're not going to match up.
I like to pin the ends first, and then work in the ease. It's helpful if you try to think of this seam in 3-D. It's not flat, it's gotta curve around your body.
Use lots of pins, and stretch the fabric into place as you go. It'll match up perfectly!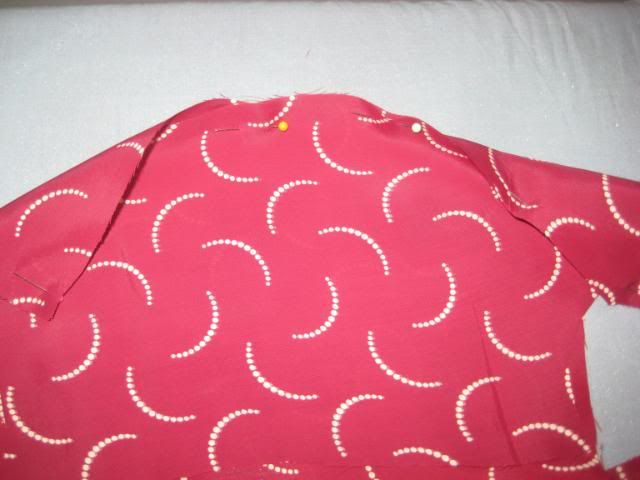 See? The seam stands up, instead of laying flat. You can make it look nice and smooth by pressing it towards the center of the bodice. Normally you press seams open, but in this case you don't.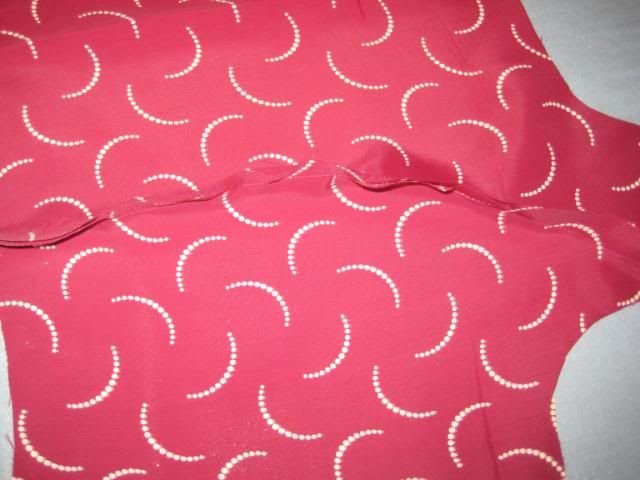 A little lining and a quick skirt later, the dress is done. I trimmed it with some dusty rose hem tape from my stash (some lady really liked dusty colors) and hemmed it by hand.
I think I'll wear it to work tomorrow with brown tights and knee high boots. What color cardigan, cream? Gray?