Also known as the "Pain in the Butt" dress. I had so many issues! It seemed simple enough but I kept making huge mistakes. It ended up turning out beautifully, at least, and looks pretty dead-on to the original.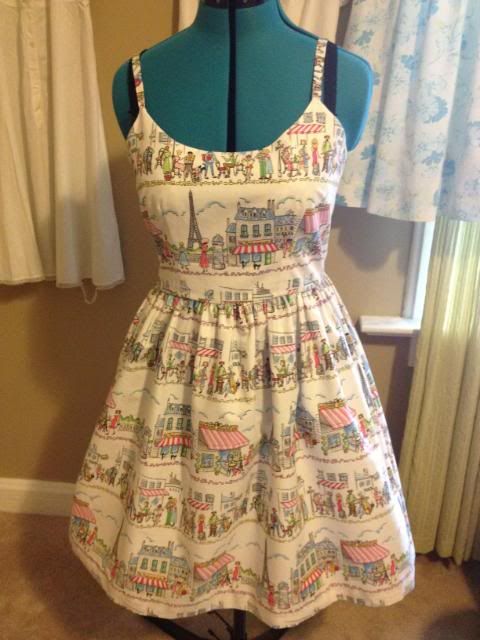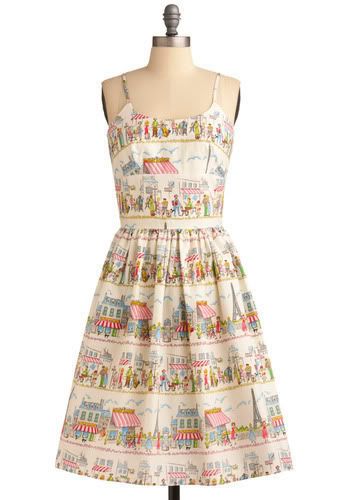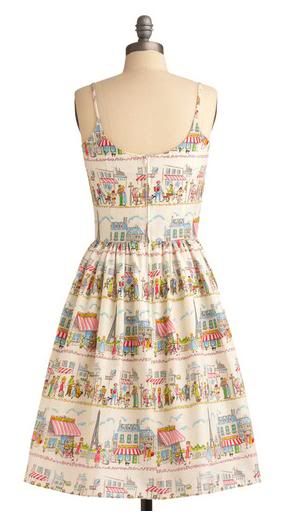 The original has the zipper on the back, but I moved it to the side so I wouldn't break up the print. Unfortunately, I sort of forgot I was doing this and followed the pattern directions too closely and sewed up the side. Whoops. There was screw-up #1.
Screw up #2 is my hem. I never cut off the selvage, I just fold the fabric under and tuck it in. It usually works great (no fraying! No hem tape!) but I forgot to take into consideration that my fabric is white. You can clearly see "Michael Miller Fabrics LLC" through the hem. Ha! It's not super noticeable when I wear it, and I doubt anyone will see it but me, but it bothers me enough that I am going to have to re-hem it.
Screw up #3 was my zipper. I am pretty sure this is the ugliest lapped zipper ever. It's a mess! It doesn't even line up at the waist. The problem was that I gathered the skirt too far and some of the gathers were getting in the way of the zipper. Couple that with the fact that I lined it, it was super bulky. Ugh. I see I got a couple puckers one one side, too.
The inside looks pretty, though! I lined it and I finished the waist seam with double fold bias tape.
I also learned a new trick for making spaghetti straps. I've never been able to turn them inside out before, and frustration has led me to avoid them altogether. But thanks to a quick tip from my handy Better Homes Complete Guide to Sewing, I got this one. You sew the safety pin inside of the strap!
Then just jimmy the safety pin through!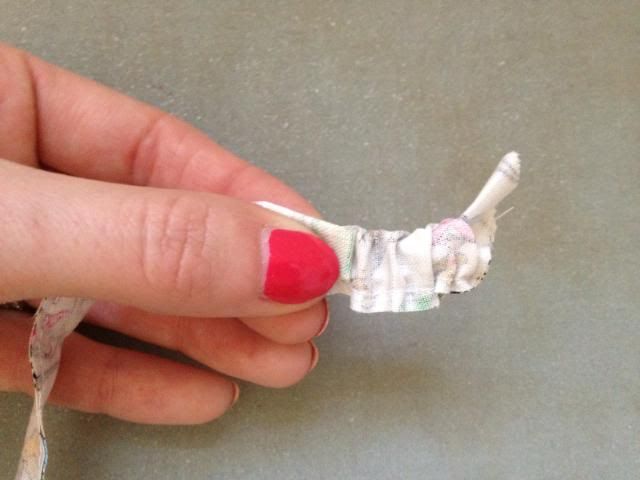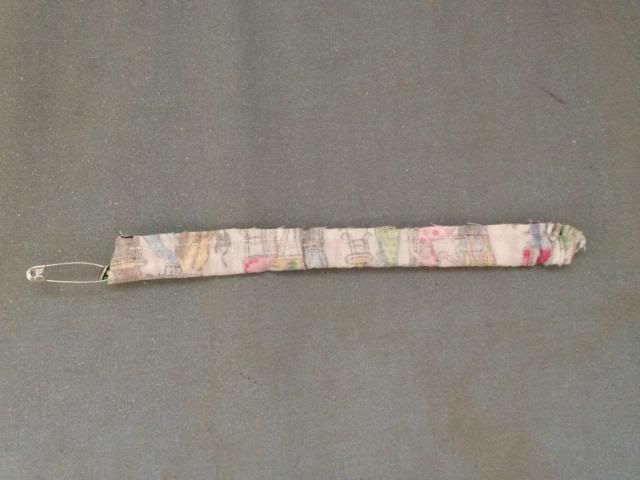 Voila! Everyone else probably knew this trick and I'm late to the game, but I'm super excited about it. It makes it so much easier!
It's back to typical March weather in Wisconsin, so I did not get to wear the dress. It is supposed to climb back into the 60's next week so hopefully I will have a chance to bust it out. Last night I started on a jacket, and I hope to finish it today and wear it, so I should have an update on that soon!