Does anyone else ever feel disappointed that you spend so much time on a muslin, only to throw it away or stuff it in a drawer? I've always felt guilty about this, so lately I've been making my muslins in a wearable fabric, usually something I didn't pay a lot for (like from a thrift store), on the off chance that it fits and is flattering and cute.
I ended up making two muslins for my Christian Dior dress. For the first one, I used a Simplicity pattern with raglan sleeves and a pleated skirt. I LOVED how the skirt turned out, but the bodice was somehow frumpy and bulky but too tight at the same time.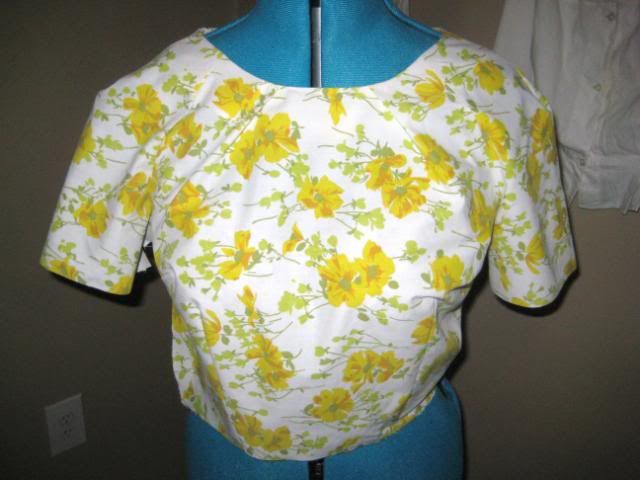 So, I kept the cute skirt, ditched the frumpy top, and made an entirely new sundress! It only took an hour to do this bodice, which is from a New Look mix & match pattern. I did the hem and zipper while chillin' at a friend's house. Sewing and socializing at the same time! Sure, I didn't exactly broaden my sewing horizons with this project, but I sure do love a sundress, and I just took 25 summer dresses to a consignment store. Everything that is ill-fitting, unflattering, or unexciting is GONE. I hope now that I've pared it down, I will be able to better "see" what I really have, and fill in the gaps with things I'll sew myself.
I used it as an opportunity to practice my lapped zipper application, too. Getting better! I've been machine stiching the side you can't see, and hand sewing the side you can.
The next muslin for my Christian Dior dress was to try out a new top. I've made this Simplicity pattern before, but the scoop neckline and longer short sleeves were just not right. So, I changed the neckline to a boatneck and made the sleeves shorter. Now, the neckline ended up being too high, but I got that figured out while making the real deal. The top was cute though, and I love this thrifted chambray (which I had about 10 yards of), so I threw a quick gathered skirt on it. I hemmed it super short to avoid looking like a sister-wife.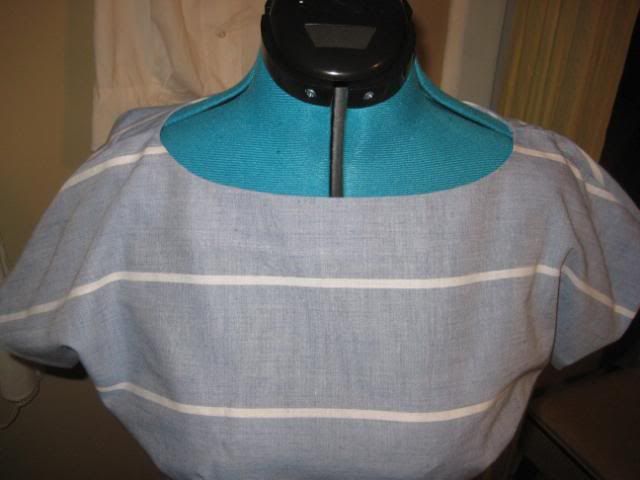 So now I have two new summer dresses that barely took any more effort to complete, and there's no feeling like I "wasted" hours.