I've been a very busy sewer lately! In addition to the One Pattern, Seven Bloggers project, I've churned out four of my knockoff Swirl dresses using Simplicity 4986.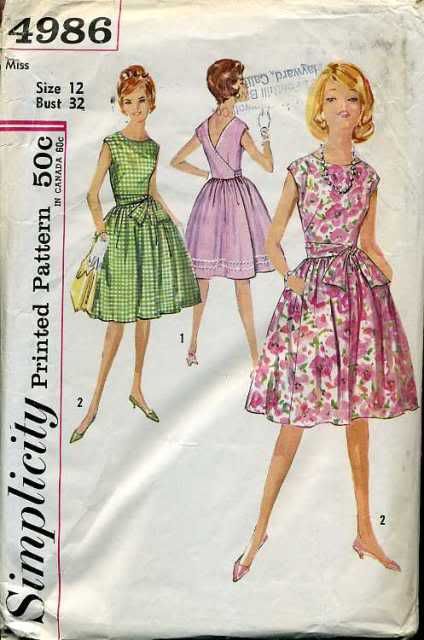 I think this is my favorite pattern I've ever sewn. It's so easy and quick and the best part - no zippers! The only closure is the one wrap tie. I stopped at four because at the rate I was going, my entire closet was going to be only this dress. Here's a rundown of my finished dresses.
Fabric: Thrifted sheet from Salvation Army, $2. This is the first one I made and I didn't do a muslin, so it was slow-going and a learning process for me. It turned out a little bit big, and I don't love how high the neckline comes up. Also, for the tie strap, it had you hem the edges. Unless you tie it perfectly, you can see the wrong side of the fabric. Even with it's minor issues, t's cute and I can see myself wearing it a lot this summer. I already wore it once to work.
Fabric: Thrifted curtain panel from Bethesda Thrift Shop, $1.99. This is my favorite of the bunch. It fits the best, and I LOVE the fabric. Yes, it's a curtain, but you would think it was just regular old eyelet fabric if I hadn't told you that. I love the buttercream color, too. I've already worn this one three times! I didn't have enough fabric, so I left out the pockets and and the skirt is not as full as it should be. I also slightly lowered the neckline and hemmed it shorter.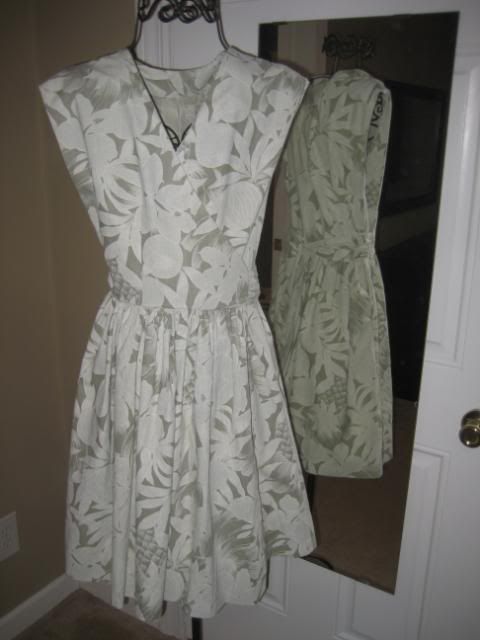 Fabric: Tropical print cotton from my friend MaryLee's stash, $0. This one is Mike's least favorite because he thinks the color is drab. It sort of is, but my entire closet is like Joseph's Technicolor Dreamcoat. I thought it would be beneficial to have something neutral for a change. I had TONS of this fabric, so the skirt is full like whoa. I wore it to work yesterday with a bright green necklace and orange flats.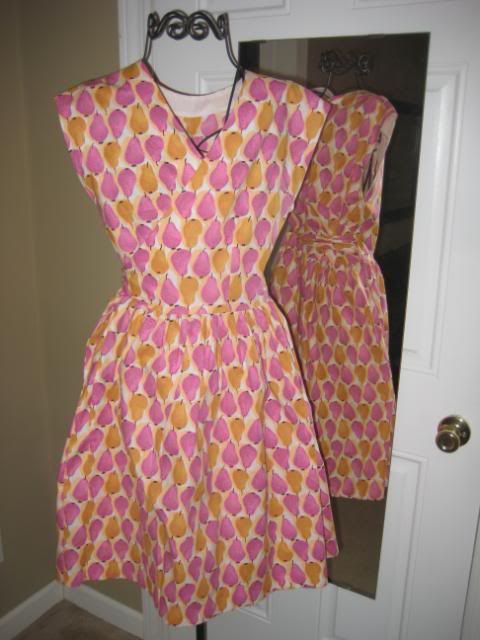 Fabric: Vintage pear print cotton from eBay, $25. And for my
piece de resistance
, I used an expensive (for me) piece of vintage cotton I bought on eBay. When I started this project, this was the fabric I initially had in mind as it's the most Swirl-esque of any fabrics I own, but I was waiting to cut until I worked out every kink of the pattern. I had three yards, but it was skinny - 35". I didn't want to sacrifice pockets or skirt fullness, so instead I used plain white cotton for the facings and made the skirt as short as I possibly could. I normally like to do a deep hem, but I kept this one to under an inch.
Next up for my Swirl project, I take on Simplicity 6341 with this butterfly print cotton from the antique store!