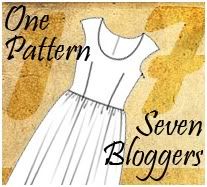 This week my fellow sewers are posting about their fabric choices, but I'm having a hard time finding the three yards of vintage navy calico I am imagining in my head! So I am adjusting my schedule a little bit and starting on my muslin first.
If you have never worked with a Burda pattern before, it can be somewhat difficult. You purchase a PDF and print the pattern yourself at home. A lot of Burda patterns have European sizing and no seam allowances, so you really have to thoroughly read the instructions. This particular pattern only has pieces for a bodice, and the skirt is just a big gathered rectangle. I cut out my pieces.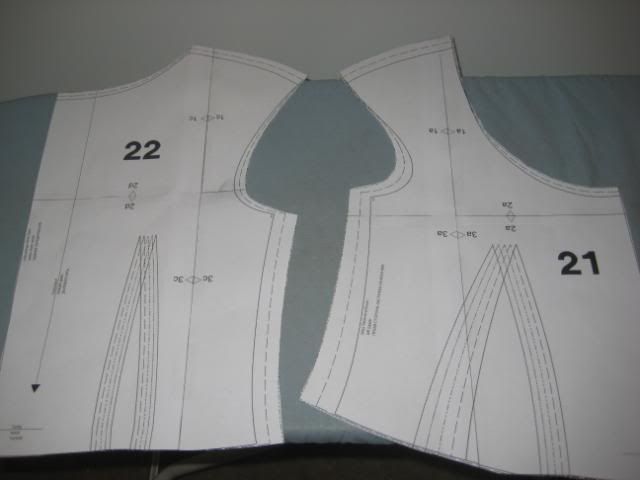 I realized afterwards that I should have taken my sewing gauge and marked 5/8" all around since this pattern didn't have a seam allowance. Instead I cut it right on the lines, so I had to add the 5/8" when cutting my fabric.
I did the darts first, and since I hardly ever post pictures of myself doing actual sewing on my blog, here's some live action sewing shots with a bonus kitty. I made the dress I'm wearing this past weekend but I'm a bad blogger and haven't posted about it yet. It's part of my Swirl dress knockoff project.
I intentionally left out the back center seam because I thought it was pointless. Instead, I just cut the piece on the fold.
Turns out it's NOT pointless, and I wasn't quite sure just how I was going to turn my bodice right-side out after sewing in the lining. Then I remembered this swimsuit I made a few months ago had a lining, so I consulted the instructions.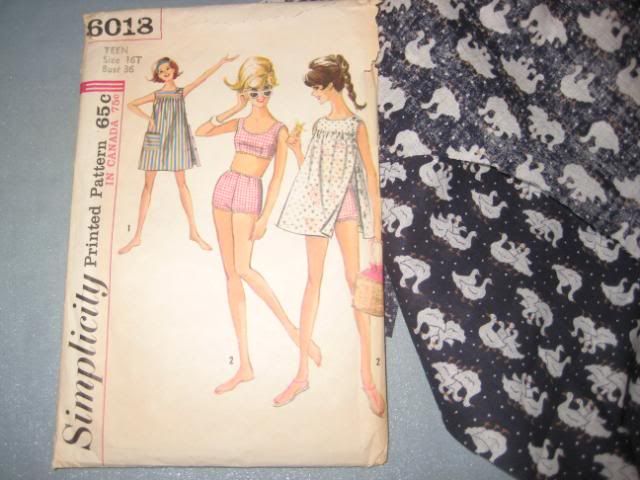 You sew one side seam of the bodice and lining, and match right sides together, pinning at the armholes and neck/back.
Sew all the way around, leaving the tops of the straps unsewn, and voila! You have a lined bodice. You'll need to sew the straps front to back once you have turned it inside right and pressed everything. I did the straps wrong on my muslin by accident, so I will be sure not to make the same mistake on the real thing.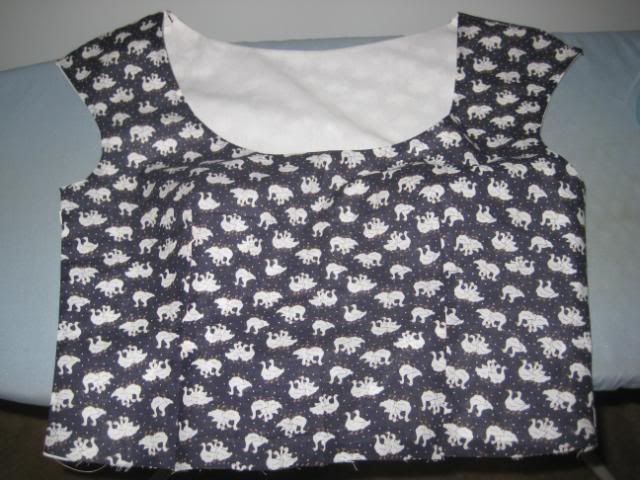 It fits great in the waist and across the back, but it is a little loose around the neck and WAY too low-cut. I'll definitely have to raise the neckline a little bit and make the straps less wide because I don't like how much they hang off my shoulders. But overall, I'm pleased with the fit. The changes I need to make should be pretty easy.
I can't wait to see what my fellow bloggers have been working on!
Sam:
http://hand-quilter.blogspot.com/
Marie:
http://asewingodyssey.blogspot.com/
Reana Louise:
http://curvespatternsandpins.blogspot.com/
Kat:
http://petticoatsandpeplums.blogspot.com/
Jen:
http://the-paperdoll.blogspot.com/
Rachel:
http://mymessings.blogspot.com/