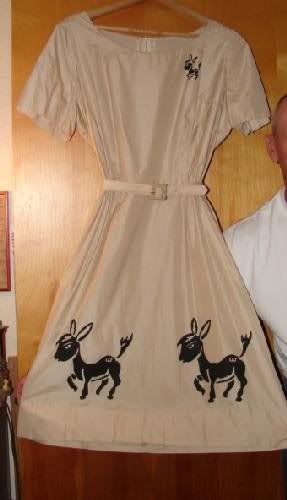 Two years ago, right before the election, my sister came across this dress on eBay. I knew instantly - I HAD to have it at any price. Custom made for a friend of Lyndon B. Johnson's in 1964, I thought it would be the perfect dress to wear when I voted for Barack and headed off to celebration parties.
Problem is, when it came, it measured at a modern 16. I'm an 8, so I was completely swimming in it. I took it to a tailor who said he could make it fit me for $120, or make it "passable" for $50. I chose the cheaper route. On election day I proudly wore it, but the fit was still off. I had to clip it in several places and wear a cardigan.
I still think I was the best-dressed Dem on election day.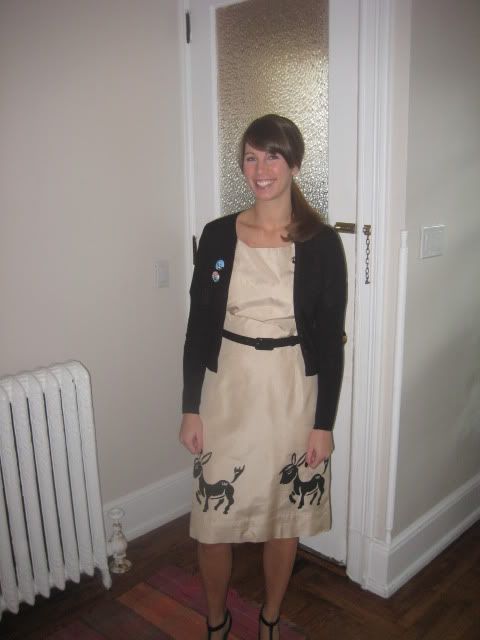 A couple days ago, I got the brilliant idea to tailor it myself. I figured, I've got a grasp on construction, I can take it apart and put it back together. Besides, I never liked the sleeves, which got hopelessly and uncomforably bunched under my cardigan.
So.....I grabbed my seam ripper and took it apart. Then I realized it was going to be a lot more complicated than I orginally thought. Not only was the fabric was really thin and delicate, the lining was sewn to the bodice.
Then I rememebered that I had a ton of black silk shantung leftover from my orchestra dress, so I would just make a new bodice. The skirt is the best part of the dress anyway, right? So I cut out my pieces.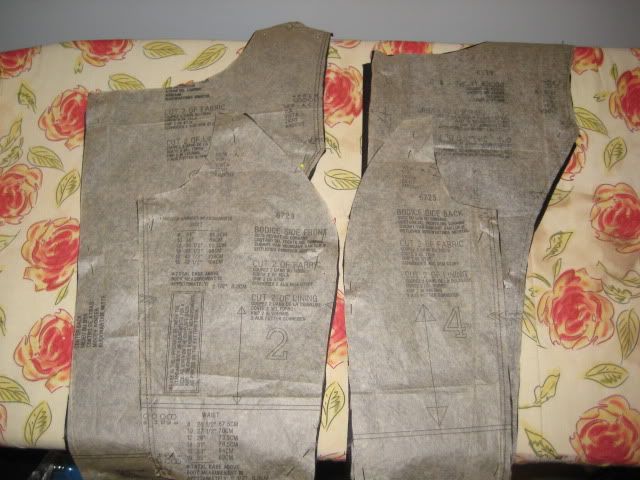 If you're thinking it looks like New Look 6723 again, it's because it is. I swear I own other patterns and won't just make this dress over and over in different fabrics. I just wanted to use something tried and true when fixing this delicate dress.
Since this is the fifth time I made the bodice of 6723, I put it together in less than an hour. (Aside from the two I blogged, I made it two other times in summery cottons. One turned out 50% messed up, but the other may make a guest appearance at some point.) Those 8 curved seams that seemed so daunting the first time I used the pattern are now old news.
I know have a new bodice, and a clean, handwashed skirt with a brand new hem.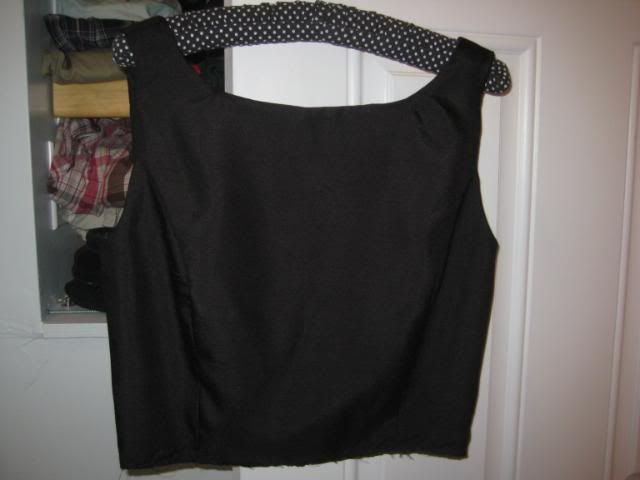 Then it was time to attach the skirt to the bodice, and I ran into all sorts of issues. The new smaller bodice doesn't line up with the seams of the larger skirt, but I can't take it in any smaller because of the placement of the donkeys. My choices are to take the darts out and make them larger (ugh) or to baste a gathering stitch across the top and make it a pleated skirt. While it's true that I never met a full skirt I didn't like, I don't think this particular dress is right for it.
So, the dress is on hold until I can muster up the motivation to re-do the darts. The fabric for my holiday dress arrived in the mail yesterday, so I've shifted my focus to that. The pieces are cut out and I will have an update on my progress tomorrow!