One of my first ideas when I started sewing was to make a dress to wear for orchestra performances. I play the cello and I'm a member of the University of Wisconsin-Milwaukee Community Orchestra. We have two concerts per year, and the dress code is black, black, and more black. Sleeves and a "tasteful" neckline are also required.
Since I never wear pants, and very rarely wear a skirt and top, getting dressed for this event has always been interesting. Since the cello goes between your legs, I require a full, at least knee-length skirt. Several times I've worn things that were not quite appropriate, like a black 1970's disco dress with white polka dots or a sequined evening gown.
I selected New Look by Simplicity 6723 and purchased 2.5 yards of black silk shantung and started on View A.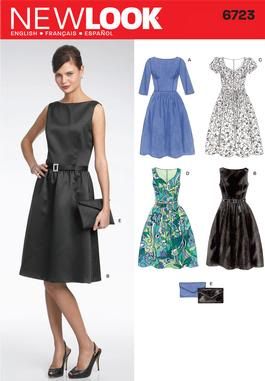 I had never made a sleeve before, so I made a muslin. My machine doesn't have a sleeve arm, which made it a little difficult but not unmanageable. I just had to go slow and manuever the fabric so I didn't get puckers.
Look, I made a sleeve!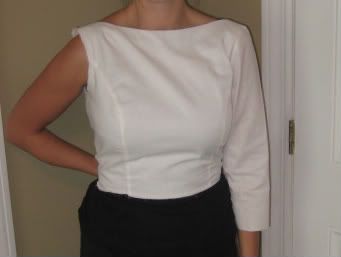 In total, the dress took me about 6 hours. I'm a lover of vintage clothing, so I wanted to add vintage touches like a hand-sewn hem and a metal zipper. The zipper took three tries to insert, but ended up looking great. It's disappointing my local Jo Ann fabrics only carries metal zippers in black or natural, and only two sizes.
The finished product! It's a little snug in the bodice, so I will have to adjust the pattern the next time I make this dress. The neckline is higher than I'd like, but it's okay since I can't really have cleavage during a performance. Overall, I'm impressed with how it turned out. My first hand finished hem, my first sleeve, and my first metal zipper, all in one dress.