Mike and I are having a Flag Day party next Friday, well, really for no other reason than it's been a long time since we've had a party and we're due. We're going to wear patriotic clothing, drink beer, play games, and grill meats. America! Fuck Yeah.
So, I need a dress. I wanted something with stars, maybe, and definitely stripes, and obviously red white & blue. I ended up finding some cream Swiss dot with a red and blue floral pattern that I fell in love with. It's nowhere near as tacky as I imagined, but hey, now I can wear it on days other than patriotic holidays.
I used Simplicity 5891, which I have made several times before. I made a
wearable muslin
back in 2011. Then I made the
real thing
using some sheer white shirting with blue polka dots. The pattern sat idle for a few years before I dug it out to make a collarless version, which became my ill-fated
Thanksgiving Dress
. Then it redeemed itself with another collarless version, this time with the pencil skirt, to be worn to a
Christmas party
.
Despite past problems, I really do like this pattern. The skirt is pretty full, but it uses pleats for fullness instead of gathers. I love me some gathered skirts, but it's nice to change things up a bit. I did things a little bit differently this time. The pattern has a back zip, but I changed it to a side zip. The fabric is pretty thin/sheer, so I wanted as few seams as possible. I also slightly lowered the neckline, both in front and back. The skirt pieces aren't meant to be cut on the fold, but my fabric was wide enough, so I did. I think a seam running down the front would be pointless and distracting, anyway. I did French seams on my skirt.
And Hong Kong seams on my bodice. I have a shoebox of packages of double-fold bias tape, so I better start using it.
Speaking of bias tape, I used it for binding the armholes and neckline. I used a pretty blue and white polka dot tape and it looks adorable and was super easy to do. You know what? Fuck facings. I am never doing them again.
I even finished my waistband! The fabric was thin and gauzy, so in addition to looking nice and neat, it reinforces the seam.
It looks just as clean inside out as it does right side in.
My only flub was the zipper. It looks mostly good, except it pulls away a little where the bodice meets the skirt. I will have to fix that. I think that's because it got too thick due to the bias tape I used to finish the waistband. I should have had it end before the zipper. I did a lapped zipper and I hand-picked the part you can see.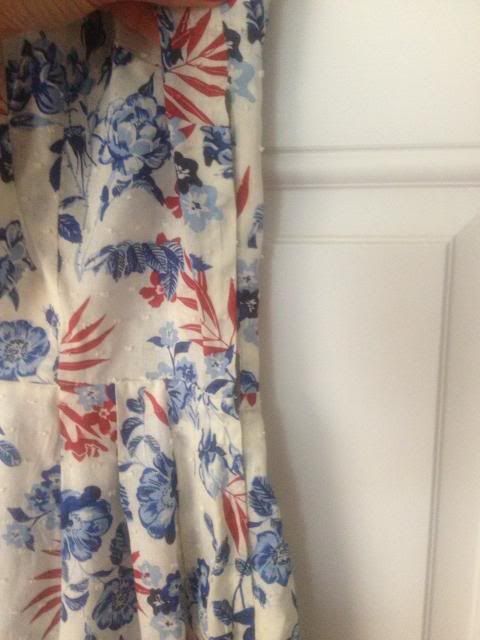 And here's some shots of the finished dress. I don't want to wait a whole week to wear it, so it's going to make it's debut at a birthday party this Saturday!