I hope everyone had a wonderful Thanksgiving and spent yesterday in a turkey coma with their families. I ate leftovers, went to the antique store to look for a bar cabinet (found one I loved but the husband couldn't commit - I hope that means Santa is bringing it for Christmas), and saw
Lincoln
with friends. It was a really nice day and I was happy to avoid the mall and Christmas shopping altogether.
A few weeks ago, I saw Taylor Swift in this dress and about died. HOW freaking cute is she?! I want to steal everything she is wearing, including her hair and her lipstick. I couldn't find the designer of the dress on any website. Maybe it's vintage? So instead, I went on a hunt for fabric.
I found some pretty similar upholstery fabric on Etsy (Premier Prints "Amsterdam" slub, if anyone is interested) and ordered two yards. I didn't bother with a muslin because I made this pattern already last year. I completely finished it and tried it on, and it was a disaster! It was a good 4" too big in the bust. I lost a little over 10 pounds this summer (mostly due to the half-marathon training) and this dress was totally huge on me. I barely even noticed the weight loss because I wear a lot of stretchy, drapey stuff, but my chest must have totally shrunk. So, I too the zipper off and took it in a couple inches on each side.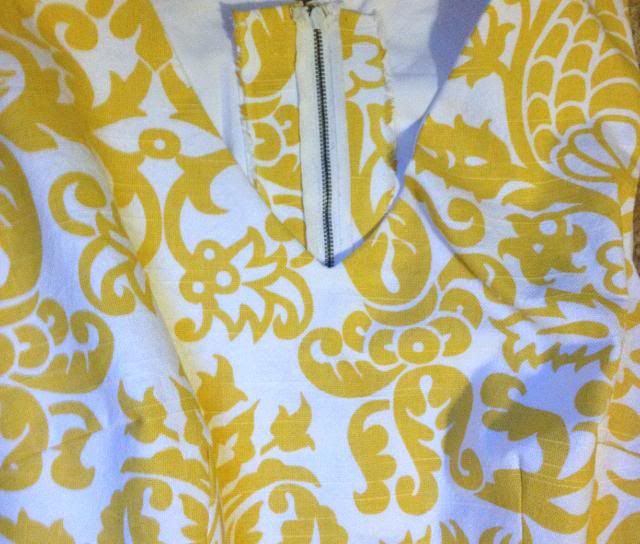 I figured that ought to do it. NOPE. Still huge. At this point, I was like "forget it". I was not about to do the zipper for a third time. Now the back fits nicely, but it's still huge under the arms and in the chest, which I would have to take off the zipper and detach the bodice from the skirt to fix. That's what I get for making it fully lined for warmth and a nice finish. If I had just done the facings, I could easily fix it without all that extra work!
It's not
terrible
on. It looks decent from the back.
The front was so loose, though!
I'm not gonna lie, I didn't wear it. I changed into a vintage dress. Once the annoyance wears off, I'll get around to fixing it. I really do like it and want it to work! I think I might actually make the straps a little narrower, too, and take it up a bit in the shoulders. I think it's worth fixing, I just have to suck it up and do it.
On a brighter note, my buttons for my blue coat came! I'll get a picture later and show you which ones I chose.
Enjoy your weekend and happy sewing!