Wow, you guys had some really nice things to say about my attempt at bound buttonholes. Thanks! Your words of encouragement mean so much to me. I worked a ton on it this weekend and I am DONE with the outer part of the coat. It's hemmed and everything! Also topstitched, which I realized I will have to rip out a little of to do the lining. Whoops.
So here it is as of Saturday. The collar is different than my beloved blue coat, which I was okay with at the time. It looked nice on my mannequin.
I made a mistake when sewing the collar to the interfacing. Instead of pivoting at the seam, I sewed down 5/8". I didn't realize until after I had trimmed and turned it inside right.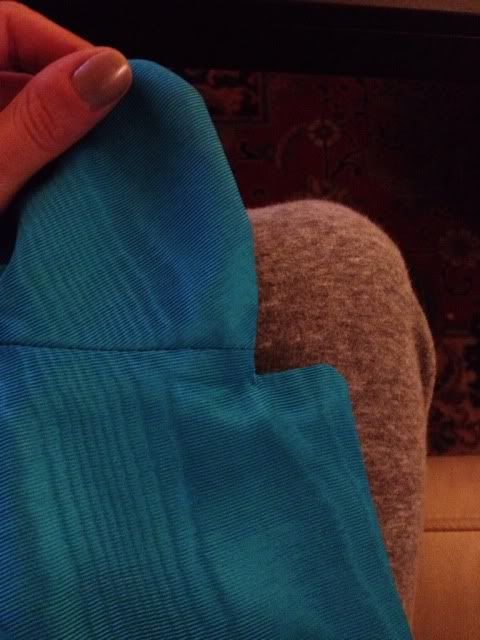 You couldn't tell once the collar was folded down, at least. Then I tried it on and realized that it looked weird when the top button was undone. And then I started to have doubts about the collar. It looked too big, it came up too high on my neck, the lapels too wide. So then I trimmed and re-sewed it. And it was crooked. So I trimmed more. You see where this is going? Around midnight Saturday, I took the collar off and cut a new one. It was a little scary, but I am SO glad I did it. Now it's just like my favorite coat!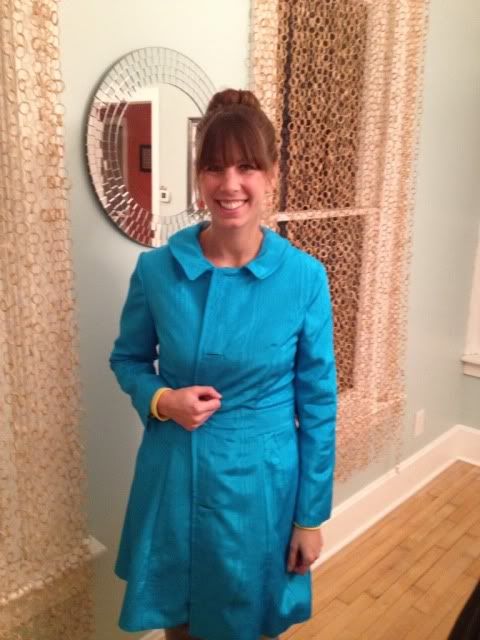 Slimmer sleeves!!
I love the belt. I am still on the search for perfect buttons.
So, next step is going to be the lining. I'll give you a little hint: POLKA DOTS.