The first full week of Me-Made May is done! I am sticking to my pledge and loving everything I've worn. The only thing I am NOT enjoying are the daily photos. I suck balls and posing and I feel so awkward. And is my bun always so crooked?? Jeez. I need a new pose and a new hairdo.
On Day 4, I was heading to brunch and a Kentucky Derby party in the daytime, and then dinner and drinks for a friend's birthday in the evening. My BIL is getting married at the end of the month, and my husband was hosting the bachelor party. At 12:30, 10 dudes were descending upon my house to drink beer and grill meats. At noon sharp, I made my exit. I came home twelve hours later to find puke splatters on the toilet bowl, so I think I made the right choice in getting the hell out of there. ANYWAY, I wore my new pink seersucker dress that I blogged about earlier this week.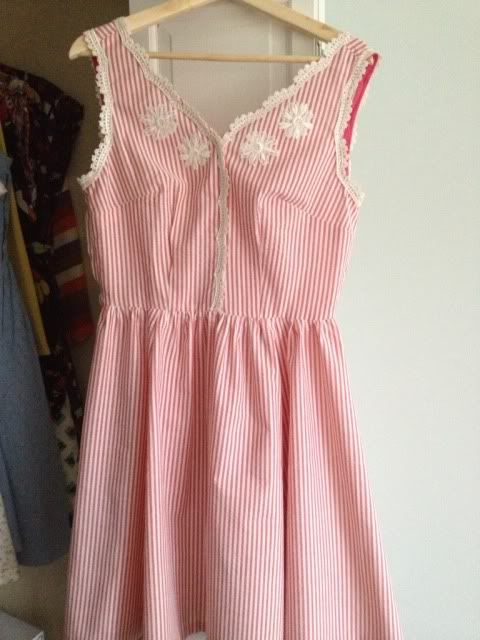 On Day 5, I sort of cheated. I went to a Cinco de Mayo party and wanted to wear something Mexican-inspired, but I hadn't sewn anything that worked. So I wore this vintage dress. It IS homemade, just not by me. It was a little chilly that day, so I wore my blue coat. That can count as my me-made item.
Days 6-10 (aka, the work week) I wore a bunch of dresses you have all seen a million times before.
Day 6: Butterick Retro 5209 sewn January 2011
Day 7: Colette Chantilly sewn March 2013 (recycled photo, I couldn't get my shit together that morning)
Day 8: New Look 6457 sewn December 2010 (also a recycled photo. I looked at the one Mike took and immediately went inside and fixed my hair)
Day 9: New Look 6723 sewn sometime in Winter 2011
Day 10: Sewaholic Alma blouse sewn August 2012
I bet everyone is thinking "girl needs a new cardigan and a new style of dress". Oh wait, that is what I am thinking. Looking at these photos, I am seeing that I basically always make the same style of dress (fitted bodice, gathered skirt) and I could stand to try something with a new silhouette. There are definitely some holes in my wardrobe I need filling. For sure I need more blouses, and dresses with tailored skirts.
I have a pretty packed weekend ahead, so I'm excited to wear more of my "going out" dresses. I hope everyone else participating in MMM is enjoying it as much as I am!