It's really hard for me to get excited about Fall. The changing colors of the leaves aren't beautiful to me....they're dead. I like fresh green leaves, sunshine on my shoulders, and cotton sundresses. "Crisp" air is downright cold to me, I prefer bare arms to sleeves, and I'm on a never ending search for the perfect brown boots that don't exist. All that, and it's only going to get worse. So needless to say, I'm in a little bit of a funk.
Then I saw these: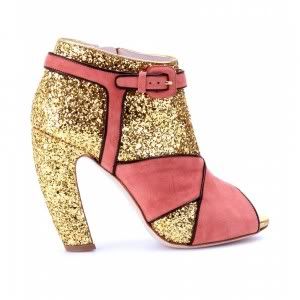 Which I am pretty sure are the most amazing shoes that have ever existed in life. I love them so much that I am actually considering (just a tiny bit) splurging on them even though they are $890. I know that sounds insane, but I am so frugal with every other aspect of my life that I have somehow convinced myself that I deserve them.
The shoes led me to the rest of the Miu Miu Fall 2011 collection, which is equally amazing. I could get excited about fall if these were in my closet.
So my focus for this upcoming Fall/Winter is going to be 40's with Miuccia Prada in mind. Hopefully I can make it through until Spring.
Sigh.....