I had a pretty low-key weekend planned, which is great for me because - more time for sewing! I dug through my pattern collection and I found four patterns for shorts. One got nixed because it was for knits, one because the pattern instructions had Velcro for the fly (shudder), and one because they were just too board short-y. That leaves this guy:
You might remember that I disastrously made the skirt last winter. It was a disgusting blob of Pepto-pink gathered cotton and I was too embarrassed to post a proper picture of it. I actually tried to sell this pattern on Etsy and no one bought it. I'm not surprised. The shorts are pretty cute though, no? A little high-waisted, but I thought I could remedy that.
For my first attempt, I measured the rise of my favorite jeans, and the cut that much off the rise on the pattern (I didn't really CUT cut it, I folded it over). Fail. They were much too wide, and the crotch was much too short. I was not expecting that. Bummer, because I actually really like this fabric. I shouldn't have used it for my first attempt. It was a yellow linen tablecloth with white embroidered flowers.
For the second attempt, I used an old sheet and I made the pattern as-is. Obviously, they were MUCH too high-waisted, but I was able to use this as a starting point and fold the waist over exactly where I wanted it to be.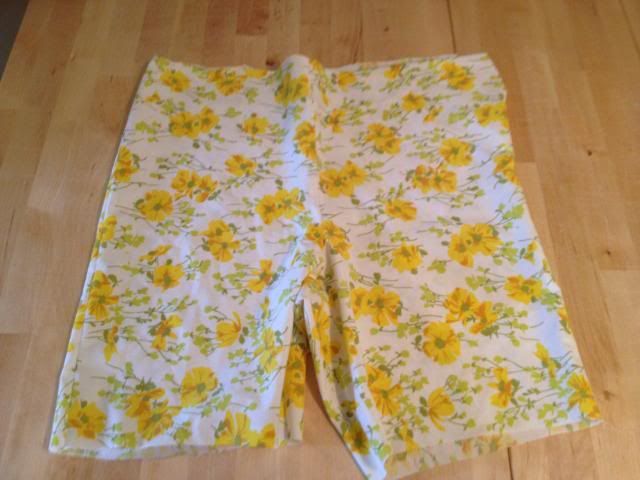 I felt good enough to start on the real thing. This fabric didn't really cost me anything - I reupholstered our dining room chairs with it and I had a little bit left over. I love this fabric. Our walls are that teal color, but we have a ton of posters with red in them (we go to a lot of concerts and we always buy a poster) so I thought that could sort of bring the two together. Plus, it's such a cheery print.
The final results are pretty good. For one, they actually fit! And I think they're pretty cute. I would definitely wear them.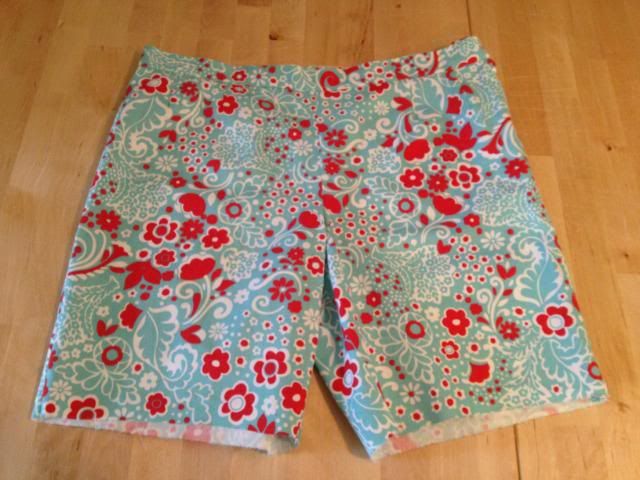 They still need a button and a hem, but that's all finicky stuff I can do tonight while watching TV or laying in bed.
The fly was surprisingly easy.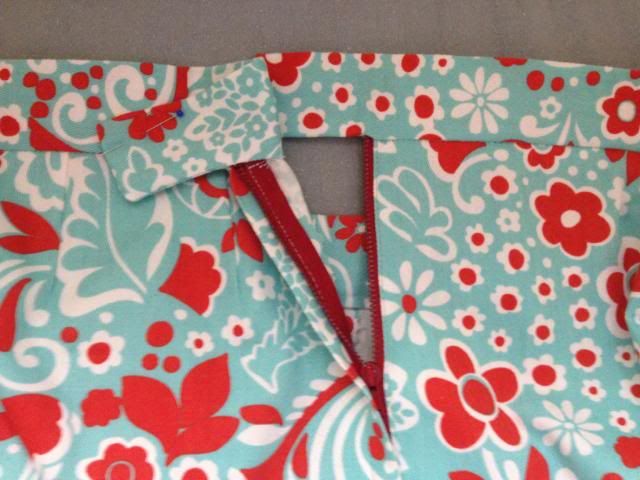 My only complaint is that the waistband piece was a big long rectangle you folded in half. It doesn't curve to my backside and gapes a little. I wish I could re-cut it but I don't have any fabric left. It's not a big deal at all with a shirt over it, and maybe I could add some belt loops for if I wanted to wear it with a tucked-in blouse.
The second real pair turned out the best. I made the darts on the back a little bigger to accommodate my rump, and I self-drafted a curved waistband. It makes a pretty significant difference in fit.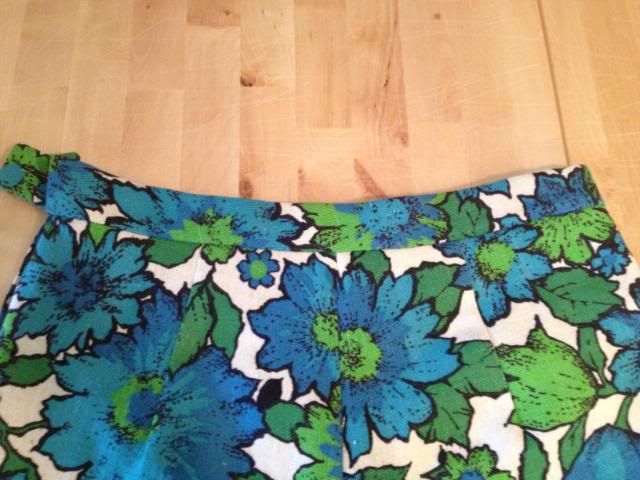 See, compared to the straight waistband of the previous pair: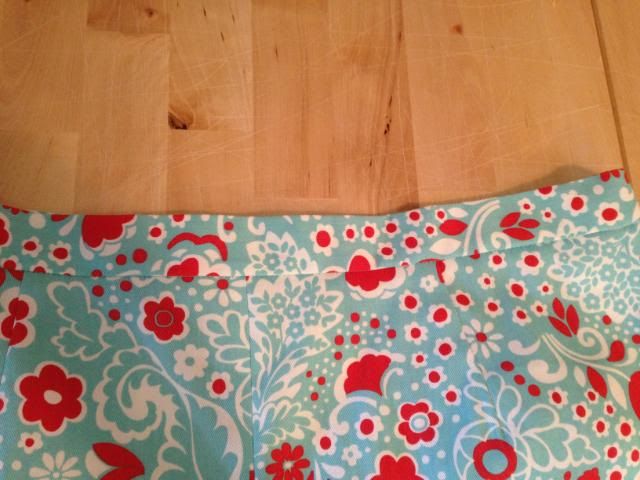 It's still freezing here (I miss my fake summer we had back in March!) so I probably won't get to wear these for another month. Which is fine, because I need to start scouring eBay and Etsy for pretty tops to wear with them. I wear dresses so often I barely have any shirts!
I have a couple other finished projects I need to tell you about. I've been busy!