I hope you don't mind if I take a break from sewing and share some photos from my trip to Colorado! It was so beautiful there. I feel like it would be hard to get anything done if I lived there because I'd always want to be outside or hiking or sightseeing.
We had some time to kill the morning before the wedding, so we went to the Air Force Academy. It was right across the freeway from our hotel. They have a guided tour, but we decided to skip it and just wander around on our own. The main attraction is a church and I was kind of skeptical, like how cool can a church really be? But it was gorgeous!
Check out the inside. What looks like solar panels from the outside are actually hundreds of colored glass blocks.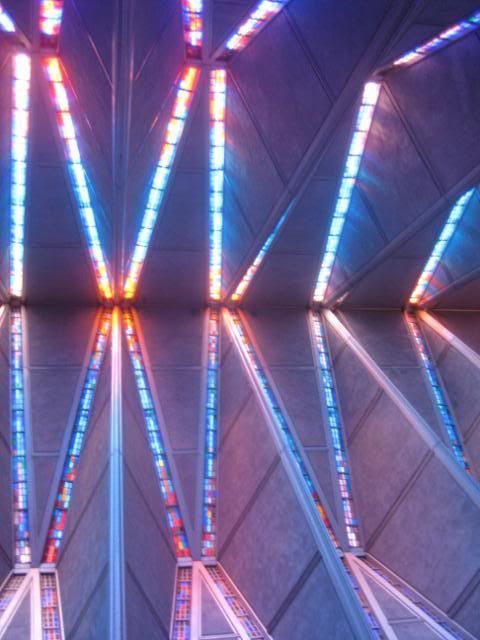 We talked to a girl at the gift shop who said that she got to have her wedding there because her husband was a student. Can you imagine? It would make for the prettiest wedding pictures ever.
There were lots of bronze renderings of planes and pilots, and an actual plane, which gave us the opportunity to act like dorks. Do I make a good pilot?
Lots of running around with our arms out pretending to be an airplane ensued.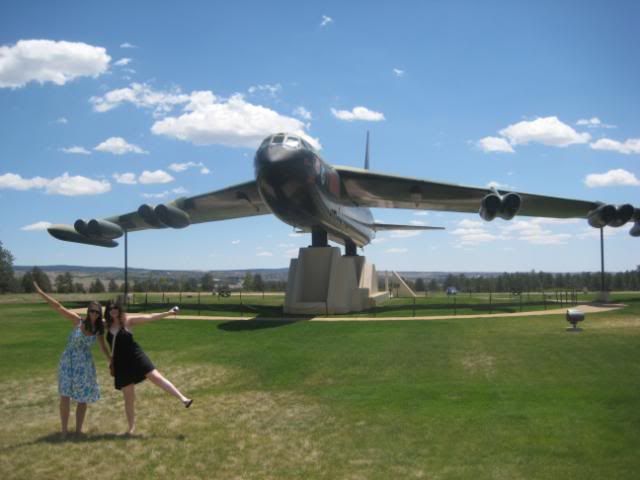 The wedding reception was on a cattle ranch, and I think it was the prettiest setting for a reception ever. Dinner was served in a log cabin with a fireplace, and it had big wooden doors that opened so that you were basically outside. The rest of the ranch was decked out with wood burning fireplaces, huge swings, a little river, and sleepy cattle.
Sleepy steers!
This picture reminds me of a Disaronno ad, but it shows how rustic and pretty the ranch was.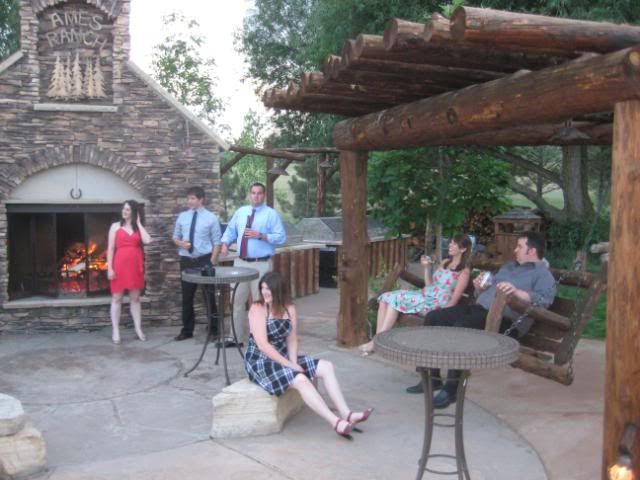 Saturday we stayed in Colorado Springs during the day and went to Garden of the Gods. It's a red rock formation/hiking trail/mountain climbing attraction. I sort of assumed we would just be walking around on a paved path, so I wore a dress. We ended up doing some actual climbing on rocks and walking through dirt paths, so I looked a little silly.
My appropriately-dressed friends got to have all the fun.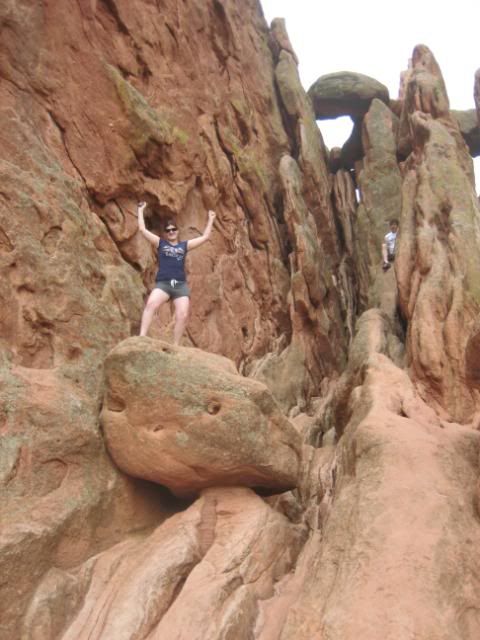 Sunday we were in Denver, and we spent the morning walking around downtown and at the Molly Brown Museum. We had to take the obligatory "one mile above sea level" picture at the Capitol.
Then we walked to this Coliseum-type place that I have no idea what it was used for, but was super cool. There was a stage and seating all around. We went up on the stage and I'm pretty sure the "wings" are just a big public urinal. It smelled so bad. So we got out of there and went to the Molly Brown Museum.
If you don't know who Molly Brown was, she was a woman who fought for equality and actually ran for Senate three times before women could even vote. She also founded Denver's humane society. Most people would probably be more familiar with Kathy Bates' portrayal of her in
Titanic
. I'm sort of Titanic-obsessed, so it was cool to see her house and touch her things. Our tour guide said she initially refused to get on a life boat, opting to help others instead. She said "I fight for equality on land, so I will practice equality at sea". She eventually got on a lifeboat and shared her clothing with women who were cold, and told stories to keep their spirits up.
We weren't allowed to take pictures inside, so we just snapped a couple of the house.
I'll wrap it up with one last picture. Denver really knew how to take it up a notch for Independence Day.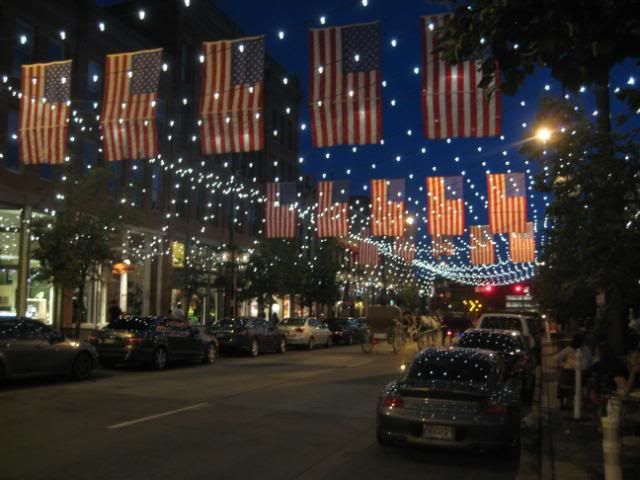 I started a sewing project last night that I hope to finish tonight! I'll have an update soon. Until then, happy sewing!