Wow, I've been a terrible blogger lately. I haven't updated in nearly 3 weeks! Sorry, friends. This summer is CRAZY. I'm invited to 7 weddings (and a few of the corresponding showers), I'm visiting a friend in Kansas City in a couple weekends, then going to Lollapalooza, then to Baltimore for a friend's baby shower. That's in addition to all the usual summer things like festivals and parties. I have not had much time to sew at all.
I haven't made anything new lately, but I have been updating and fixing a few things. I mentioned in my last post that I was planning on altering a couple vintage dresses. What are your feelings on that? Personally, I am okay with doing alterations that don't take away from the original feel of the dress. I will hem things shorter, or take it in or let it out if it doesn't fit. I'm not talking about hacking 3' off a 1940's dress and making into a mini here, either, just an inch or two to make it more wearable. I recently did a little work on this dress.
It was a bit too big in the bust, and it had a layer of netting. The netting was torn in places, and it was SUPER scratchy. I get itchy just looking at that. I didn't want to have to wear a slip all the time, so I removed it and finished the waistband with bias tape. I also took it in about an inch on each side.
I don't feel bad about the alterations, because before I probably would never have worn it, and now I feel like it's a part of my "forever" wardrobe. I will wear it for weddings and parties for years to come. I wore it to a wedding last weekend!
Another dress I altered had been sitting in storage since about 2008. I've always wanted to wear this, but a turtleneck maxi in a giant bold print? I felt like it was TOO MUCH. I wanted to either shorten it or change the neckline, but year after year I just never got around to it. I finally did a couple weekends ago, which makes me wonder what the hell took me so long, because I have worn it like 6 times since. It's totally one of my new favorites. Here's the neckline before:
And after alterations. I finished the neckline with purple bias tape, and I made the back super low and scoopy.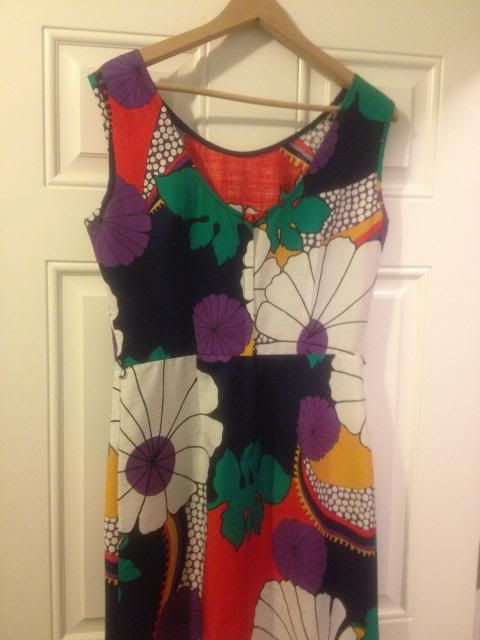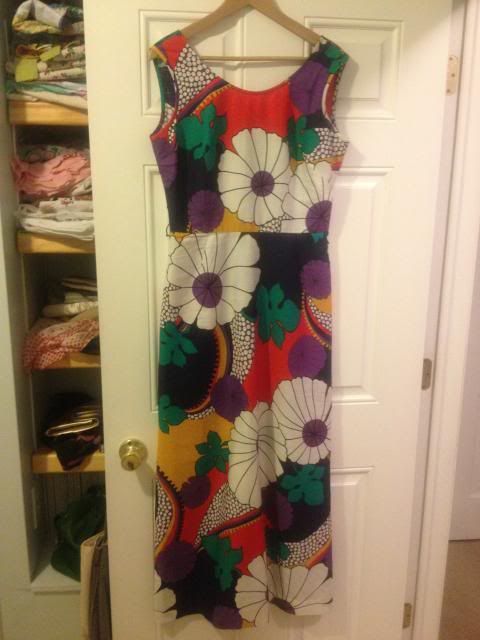 I am so bummed I didn't get any pics wearing it! It's on a bit of a hiatus now because I ran into a personal trainer from my gym while wearing it twice, and I don't want people to think it's the only thing I own. It's pretty memorable.
I am also in the process of altering two more dresses right now - repairing holes and fixing up a 1930's feedsack dress, and restoring a 1960's cocktail dress I bought on eBay that is in rough shape. It pretty much needs every seam re-done since the chiffon overlay is tearing away from the lining. I've made good progress on it, and I hope to have it finished for an August wedding.
Also, funny story. I got a new iPhone, and the pictures I was taking with it looked like garbage. Compare the before and after pictures of the maxi dress. The before was taken with the old phone, the after taken with the new phone Why is it so grainy and soft-focus? Um, hi Amy. You have to remove the protective plastic sheet from the back of the phone. Durr. I had the phone for like a month before I figured that out.
ANYWAY, I hope everyone is having a lovely summer! I miss you all.