Is anyone else feeling like this winter has gone on forever? It's currently snowing and I'm sinking into a bit of a depression. I just want to hibernate until it's warm. Like, check out the 5-day forecast.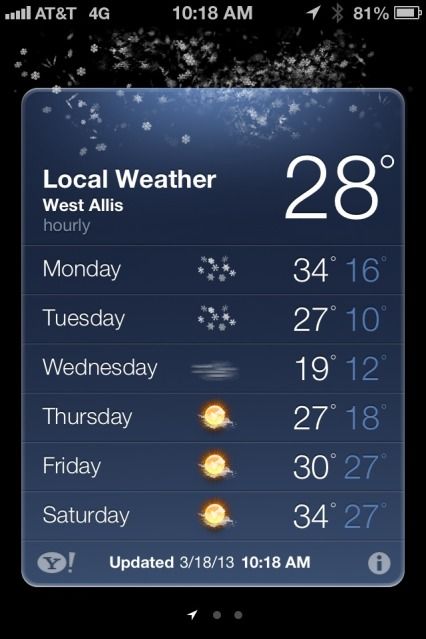 High of 19 on Wednesday? Are you fucking kidding me? The average high for this time of year is 30 degrees warmer than that. Last year, this same time of year, it was already in the 70's (okay, so it was an abnormally warm summer last year, but I loved it). I am desperate to see the sun and go outside. I want to burn all of my winter clothes. I decided the best thing to do to combat my blues was to go for a run by the lake. I figured close proximity to the lake and some fresh air would be the thing to lift my mood. It only sort of helped. It was VERY cold. And today I am unusually sore, which I am chalking up to running on ice and having to alter my gait.
I briefly considered going to a tanning bed. Then I remembered the last time I went tanning, and how bright red and puffy I was afterwards, so I did the next best thing I could think of - started on a summer dress. I bought Colette Patterns Chantilly ages ago, but never got around to sewing it. I was intimidated by the amount of fabric it used, and I never had anything large enough in my stash. I had 3 yards of 54" wide rayon, and the pattern said I would need 3 yards of 60" for my size, but I figured I could make it fit with some rearranging. I ended up with like a yard leftover? So I guess I probably could have made the pattern work with something in my stash ages ago. I got pretty far along last night. I got the bodice and the skirt done. I didn't have any appropriate lining, but I'm going to go to the fabric store during lunch today and pick some up. I'm to the point where I can't go to the next step without.
I'm confused on one portion of the directions. Can anyone who has made the pattern help me out? This page, instruction #4.
Why do I need to finish the raw edges? Why am I waiting to sew up that side seam? I've made dresses with linings before and have never seen it done this way. I read ahead and it still didn't make sense to me. So if anyone has any advice on this pattern, I'd love to hear it!