I'm sorry, I've been a terrible blogger lately. I'm at least two weeks behind on posting about projects! Since my last post, I made a summery sundress, a 40's blouse, most of a 40's dress, and half a coat. The 40's dress is at a standstill until I find four more clear glass buttons, and the coat needs a lining, which is cut out and ready to sew, except that my sewing room is undergoing a demolition. Mike and I ripped out the carpet to see what was underneath (hint: nothing good) so now we just have plywood subfloors. We got some hardwood samples and are considering going that route, depending on how level our floors are and if we can borrow tools. Otherwise we might just do laminate. I am so ready to be done with carpet. The previous owners had two big white dogs, and I swear I am still finding dog hair in corners. It's just cheap and ugly and I have an orange tabby that pukes a lot. Plus, my sewing room always looks trashed due to threads and bits of fabric and paper on the floor. I'm temporarily moved into the guest bedroom, but it's hard to do anything without room for my cutting board and my iron in the other room.
Two weeks ago, Mike and I went out to Los Angeles to visit his brother Andy. He was generous enough to gift us tickets for Christmas with his frequent flier miles. We got in on a Friday around 6:00 pm and Andy picked us up from the airport. Normally I don't have any opinions on airports, but if you get a chance go to to LA, fly into Burbank instead of LAX. It was tiny, not busy, had good food, and took about 3 minutes to get through security. We went to dinner at a brew pub, and then headed to the Laurel Tavern for cocktails. I really liked that bar - it was warm, dark, stylish, and they had tons of delicious beers on tap. I got a tangerine wheat. Saturday morning we got up early and got breakfast, and then headed to the Griffith Observatory to walk around and take pictures. The Hollywood sign was pretty far away, but I got a decent picture.
Andy got a good one of me and Mike in front of it. Blue coat!! I wore it all weekend. I had three people come up to me and ask me about it and I thought that was really awesome. Getting compliments on homemade things is the BEST.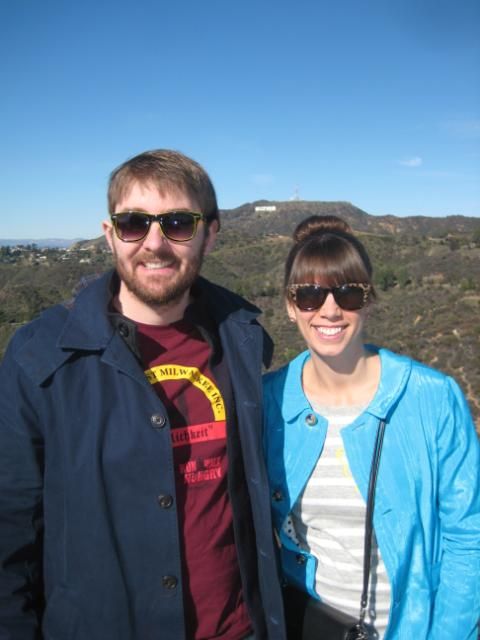 Hangin' out with my pal, Al.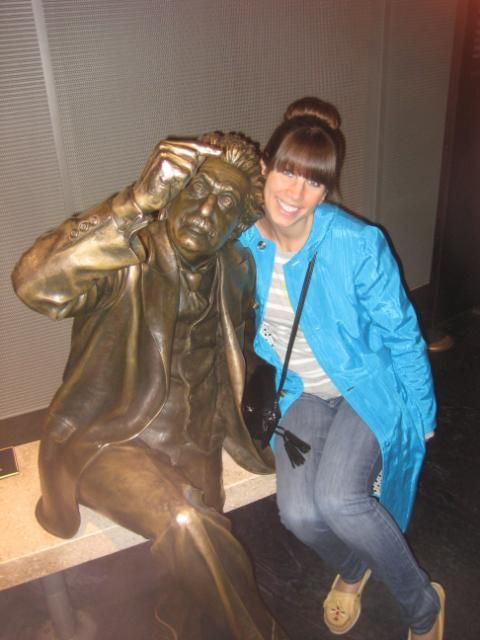 Afterwards, we went to the California Science Museum to see the space shuttle Challenger, which Andy had something to do with building or working on (I think?) when he worked at Rocketdyne.
The rest of the museum was free, so we wandered around. This was part of a river display. It was sparkly, so Mike and I are trying to "look sparkly".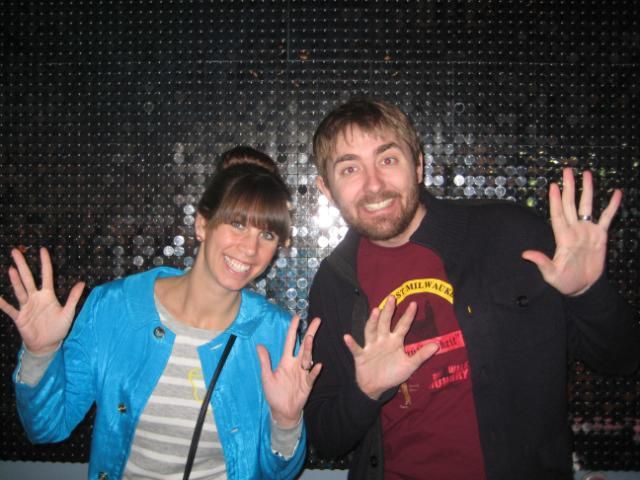 This display showed you which parts of your body are hot! I thought it was kind of cool.
From there, we headed to a bar to watch football. My Packers lost, but the bar was nice. They had 2 for 1 drinks until 7:00, so I spent most of the night double-fisting glasses of champagne. Mmm. I freaking love cheap champagne.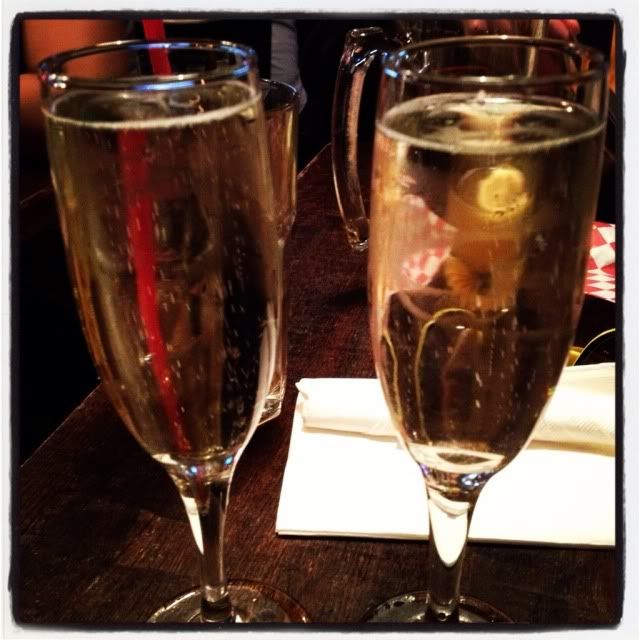 Here's a pretty picture from the entrance to the Science Museum.
Sunday we went on a tour of Dodgers Stadium. I wore my blue coat again (record cold temps! Boo!) and my blue and red floral 40's blouse. The tour was fine, would have been better if it was warm out!
.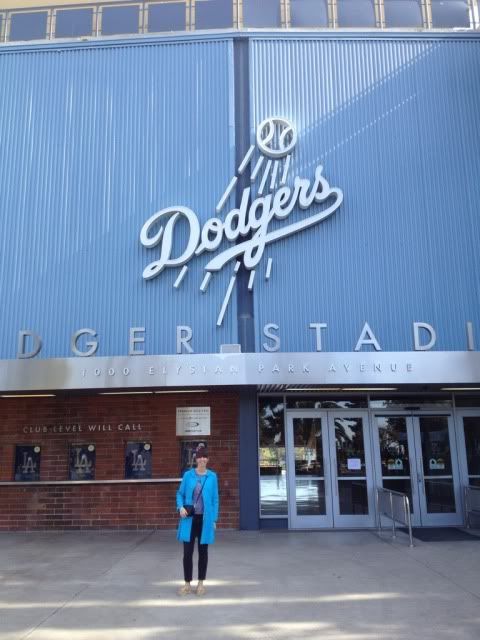 Sunday just so happened to be the day of Gertie's sewing party!! I had the boys drop me off there and go to a bar. It was really great. I was nervous at first, but then I recognized
Caroline
from her awesome blue floral wiggle dress, so I went up to her and introduced myself. From there, I met
Amity
, who is gorgeous and the nicest ever, and
Christine
, who was wearing a
dress
I would kill for. And I met Gertie, of course! I bought her book, had a cocktail and some snacks, and got my makeup done. I was so happy that I was in town and was able to go!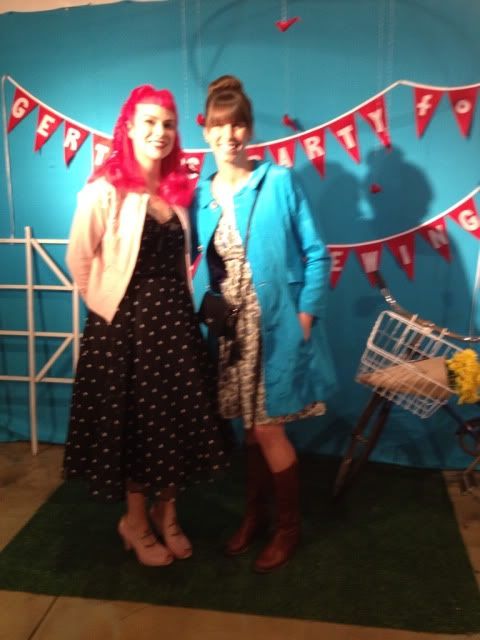 She was wearing the black organza dress from her book, and it was even prettier in person. All of her lovely garments were on display. I made the dress I'm wearing specifically for the party. It was a little chilly out, but I sucked it up! It's based on a sundress I saw Taylor Swift wearing. I didn't use a pattern, I just made a basic bodice with spaghetti straps and a gathered skirt. The fabric is the good part. It's a soft, thin cotton from an estate sale printed with cooking ingredients! Butter, sugar, salt, spices, etc. I'll have to take a better picture of it for you one of these days.
We had a random celebrity sighting on Sunday, but I couldn't tell who it was. Just that there were a lot of paparazzi photographing.....someone. I will have to keep my eye out for tabloid photos of someone at a farmer's market in Studio City. The Golden Globes were that night and I wanted to stalk the red carpet SO BAD but Andy would not take me there. I really need to go back to LA with ladies. I felt like I was the third wheel on a guys' trip most of the time. I just wanted to shop and eat and stalk the Golden Globes, but I got dragged to a dozen brew pubs and sciencey things. I got real tired of guy things around Sunday afternoon, and made them take me to a vintage store. It's called Wasteland. I really wanted to buy this vintage Gucci tote bag, but I restrained myself. I only bought this black sequined jacket. It reminds me of Madonna in
Desperately Seeking Susan
.
Another random sighting. A Delorean? Haha. I had to take a picture.
Then Monday we left! So I wish it had been warmer and that we could have done more shopping, but all in all it was a nice trip. Once my sewing room is in order, I'll be back with an update on the coat. I must be a sucker for punishment because it had SEVEN bound buttonholes. Six look great. One is awful. I can live with that!