Once I had my bodice mostly done, the rest came together super easily. It's hard to tell from the last photo I posted, but the skirt is a pencil skirt with a bubble skirt over it. Like so:
I used a pencil skirt pattern already in my collection, and I just winged it with the bubble part. I wanted it to be super full and poufy, so I gathered more than two yards to make it! It was so thick it was hard to sew through, but once I got the waistband on, it looked fine.
The rest of the bodice was pretty easy, too. I pinned it on my dress form and cut it down the middle. Then I played around with a few collars. I used a collar piece from a dress pattern I had, and just made it longer, but it didn't really lay the way I wanted it to. It was too flat, and Effie's collar kind of sticks up in the back. So in the end I just used a super long strip of fabric folded in half. It was super easy and looks just how I wanted. From there, I pinned the collar in place, sewed it on, and then trimmed away the excess fabric from the bodice.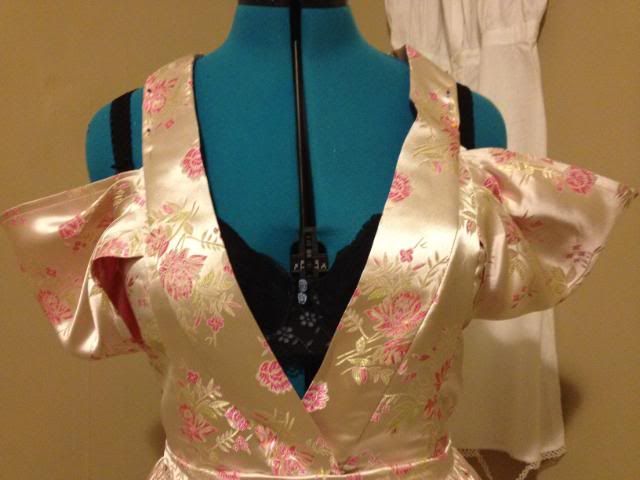 Here's a closeup of the seam detail.
And the back.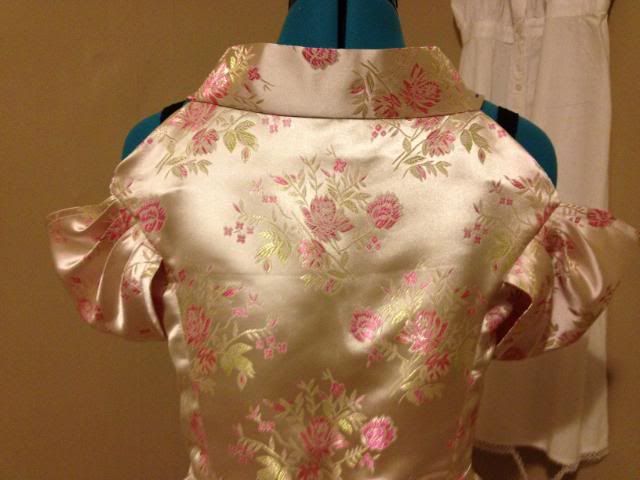 And finally, the whole shebang.
I am SO pleased with how it turned out. All I have left to do now is the belt and the blouse, but the blouse will be super easy. It's more like a scarf, really. The only minor issue I am having is that the bodice likes to come untucked from the skirt because the fabric is slippery. I'm thinking I can either tuck the blouse into my underwear to keep it in place, or maybe I can put a little piece of velcro or a snap on the waistband of the skirt and the back of the blouse to hold it all together.
This fabric was surprisingly not bad to work with. It shredded like crazy, but since it's really plasticy, I just used a lighter to melt the seams! It worked perfectly and I have no fraying and didn't have to use seam binding. I've got pink false eyelashes and a pink wig coming from a friend that works at a costume website, and I still have to figure out shoes. I decided that if we go to a party at someone's house, I'm wearing these:
Eek! I am so excited for Halloween!