Riding high from my previous Alma blouse (which I still love and have worn way too many times in the last week), I thought I'd try the long-sleeved version. I've had this particular piece of fabric, two yards of Anna Sui silk from Vogue, for a while now and I was waiting for the right pattern. I thought this was It. Since my muslin went so well, I just plugged right along, completely finishing it before trying it on. Zipper, hem, the whole shebang.
Yikes.
Why does it look so...bad? I can't even pinpoint what's wrong, it's just...ugly. And limp. And it makes my gut look bigger than my boobs.
It has to be the fabric, because I seriously feel SO cute in my navy Alma blouse. I don't even want to wear this one out of the house. I unhemmed it (it was pulling like crazy because I think I made too wide of a hem) and removed the collar. I couldn't even take a picture of the sad little collar for you guys. Interfacing is necessary with silk. Lesson learned, yo. I re-made the collar, but the I decided at the last minute to leave it off. I think that was the wrong choice. What is UP with the neckline? It's so crooked. And it poufs out on the left side.
I have also never in my sewing life had to do a swayback adjustment, but it sure looks like I need to here. My other Alma lays nice and smooth.
The saddest part is that my sleeves turned out really sweet. Look how sweet:
Except that when I raise my arms to show you both, my stomach shows. WHY is it so short? My other one is not too short! WTF.
I don't know what the hell happened. I am so tired of looking at this blouse I don't even want to try to fix it. I might have to set it aside for a while and assess whether or not it's worth salvaging. It's so depressing when a project fails, isn't it? So that no one else is depressed, I'll leave you with a picture of a silly little project I made.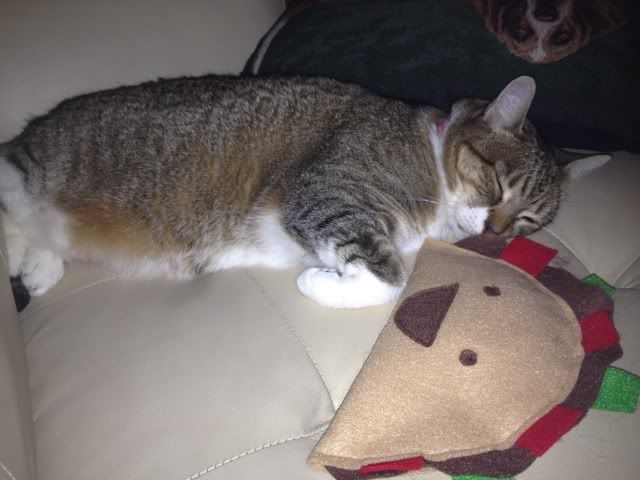 Felt taco cat toys make everything better.