I've suddenly become someone who wears pants. I'm not sure when this shift happened, probably around the time I bought a pair of pink jeans. I wanted to wear them every day! Then I got some dark jeans, then black ones, then green ones. I've pretty much been eschewing dresses in favor of pants all summer long. Which means, I need to sew tops! I made this one right before the heat wave struck, and I never got around to photographing or blogging about it. So I thought I'd do a quick post to share it with you.
I used Colette Patterns Sencha again, but this time I added two inches to the hem of the blouse. The last one I made came right to the top of my jeans, and I'm always yanking it down when I wear it. I really love the fabric. It's a light, drapey rayon from Vogue Fabrics. Best part, it was in the remnants bin so it cost me less than $5. Holla!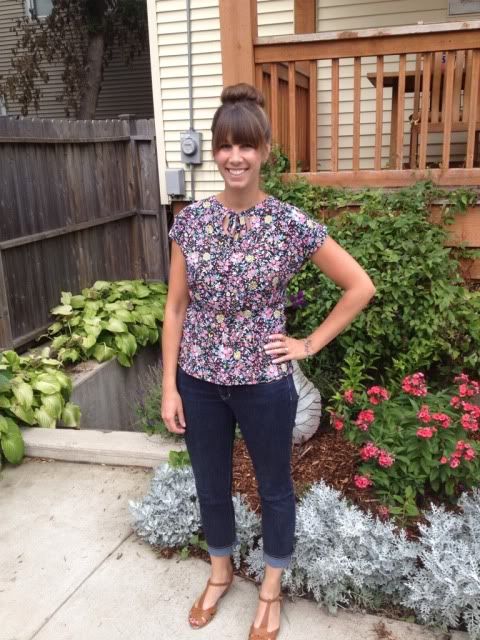 I really love this pattern. The shape is super flattering, I love the keyhole neckline, and the button-back is such a sweet touch. It reminds me of a 40's blouse, but with updated proportions. Does anyone else have trouble with the sleeves, though? I can never get them to turn out right. See how it's kind of pointy on the left side there? That always happens and I can never make it not stick out.
I had a disastrous second attempt at a Sewaholic Alma blouse the other night, so hopefully I can fix it enough so that it's wearable. It's too tight and bunching horribly all over, and I can't figure out why. I made the long-sleeved version this time, but that's the only difference. The body should be exactly the same. Right now, I took the collar off and unhemmed it, and I'll see if there's anything I can do to fix the bunching. If not, I guess I'm keeping the sleeves and re-cutting the body. We'll see. I'm going to work on it tonight.
I've got one more finished blouse to share with you, and then I should be all caught up!