Hi, friends! I didn't mean to take such a long hiatus, but summer is getting in the way. There's too many things to do outdoors, and also, it's about 85 degrees in my sewing room. No A/C in this house, baby! So I've been spending as little time inside as possible.
In the absence of sewing, I have done the following things:
1) Ran a 10K. My friend Leah and I did the inaugural Summerfest Rock & Sole 10K on a blisteringly hot July day. The race course was amazing and went over a very famous (and long) bridge in Milwaukee. The problem? It was 85 degrees at 8 a.m. and every water station ran out of water. The planning was kind of a mess and a lot of people got sick or hurt. I am glad I did it though, it's a nice personal accomplishment.
2) I'm on a boat, yeah! Mike and I went on a University of Wisconsin - Stevens Point alumni boat cruise. It cruises up and down the Milwaukee river and stops at three brewpubs. Rock Bottom Brewery (yes, I know it's a chain) was my favorite because they had a delicious fruity beer called Jazzberry, and a couple that weren't using their drink tokens gave us theirs. Score!
3) Bastille Days! Leah and I did the Storming of the Bastille 5K on Thursday night, then Mike and I went back on Sunday to check out all the vendors. We ate brie on a baguette and I bought a pretty sundress and we took pictures in front of a replica of the Eiffel Tower.
4) More running! Leah and I did the German Fest 5K in tacky Halloween costume dirndls. Boy, was that a hot sweaty dirndl, but it was so much fun. Strangers stopped to take our picture!
5) Please Hammer Don't Hurt 'Em! Yeah, that's right, we saw MC Hammer at the Wisconsin State Fair. $15 well spent, let me tell you. I had so much fun, and Hammer is one of those singers where you think you don't know any of their songs, but you know them all. I was singing at the top of my lungs to everything.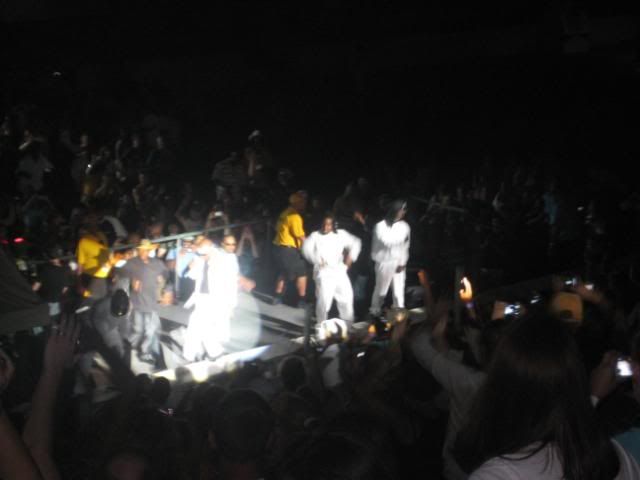 6) Eating corn dogs. Yeah, I've had two of these babies at the State Fair so far. Going back for another next weekend!
Even with all that running, eating, and drinking, I did manage to sneak in a few minutes of a new project in between heatwaves. It's the second variation of McCalls M6331.
Normally I wouldn't dream of wearing a bustier dress, but it comes in cup sizes, so I thought I'd knock out a muslin and see if it could work for me. I got a good portion of the bodice done, but I got a little frustrated on the cups. There is a LOT of ease to work in and I got a couple puckers.
I ended up off by about 1/2" on the inside of the cup. But so far, it is fitting well and seems like it might work on my body. I might end up sewing in bra cups because it would be pretty impossible to wear a bra with this thing.
That's all for now! It's supposed to cool down this week, so if my sewing room gets to a bearable temperature, I might get back in there and finish this. Have a great week!