I would normally be in bed right now, but I have off tomorrow for Brewers opening day! I have had a crazy busy weekend. I sewed two dresses with a 60's scooter dress pattern (more on that later), hit the thrift stores and antique stores for fabric and patterns, and made a complete overhaul of my sewing room.
First off, I stopped at my favorite antique store. I've noticed that the merchandise never changes, just what I am looking for changes. I've seen both these fabrics before and passed on them, but once I had the perfect pattern, they were exactly what I needed.
I got three yards of this blue and yellow floral cotton for $8.
And two yards of this cotton for $6. It's flowers! It's butterflies! It's flowers MADE out of butterflies!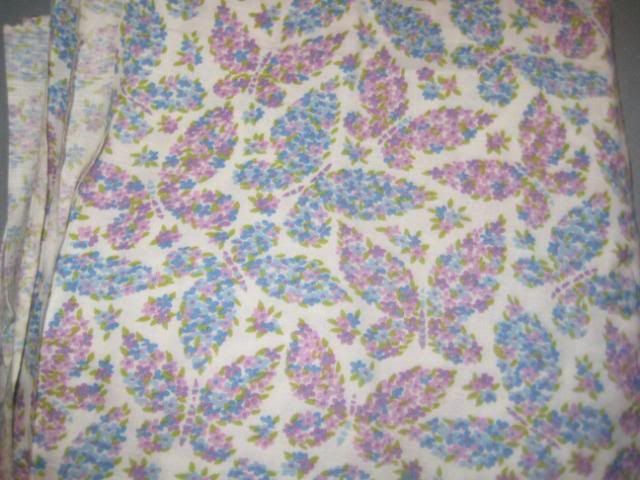 I lost the dream 1940's wrap dress/house dress pattern I was watching on eBay, but I found a pretty similar one at the antique store for $4. The only difference is the eBay one had cap sleeves, but those should be easy enough to add.
I also hit the Salvation Army and got three big pieces of fabric. I got this great upholstery fabric that I'm going to use to recover a chair. I love when the selvedge has a date! This one is from 1980.
Is this too 80's? I can't decide. There's about 3 yards of it and it reminds me of this outrageously overpriced piece of rayon I've had in my eBay favorites for a few months now, and it was $2, so I bought it.
Lastly, I got this new-in-package sheet from Target. I love how it looks like a mid-century print, but it's clean and brand new and there's TONS of it. I already have a pattern in mind.
But the most exciting thing I purchased has to be this sewing machine from Craigslist! It's a New Home (endorsed by Simplicity!) and I am not sure of the age, but the couple I bought it from said it was their grandmother's and she sewed on it until the day she died. I didn't even care if it worked, it was just so pretty that I wanted it in my home no matter what. I got it home and set it up and it works perfectly. For only $30! I love it the most.
It inspired me to completely overhaul my sewing room. First off, I painted my hideous desk a 1950's combo of seafoam and white. I found the desk on the side of the road last year and dragged it home with the intention of painting it. It was bright purple. I think this is a huge improvement.
I also put up a shelf for my thread rack, and my iPod dock is going to eventually go up there. I bought a pretty box from Marshalls and my patterns fit in it perfectly. It's actually supposed to be a a photo box, but it is the exact dimensions of all my patterns.
Lastly, I hung some pretty hooks so that I can hang/display finished sewing projects or works in progress.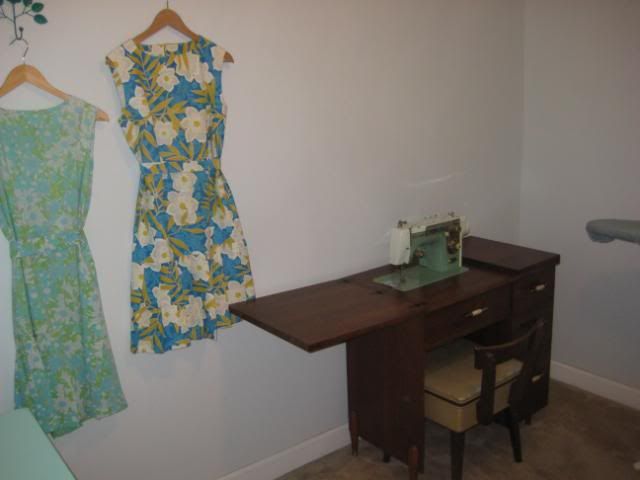 I loooove the cabinet. And the chair opens up and has storage under the cushion!
I love spending time in my sewing room, but now I want to be in there even more. I've always been so envious of bloggers with dedicated sewing spaces because mine was such a mess and a hodgepodge of crap. But now I have something worthy of showing off!
I made two fantastic 60's dresses this weekend and I can't wait to tell you about them. For now though, I gotta get some sleep because tomorrow is going to be a long day. We're meeting at the ballpark at 9:30!