Remember this dress?
I think I started it over a month ago, but I kept screwing it up and losing motivation. I finally finished it! I borrowed heavily from the pattern envelope for my fabric choices, and I used a rayon crepe from Trimfabrics.com. It was really hard to find the light brown fabric for the waistband. I originally wanted real suede, but it was really expensive. Ultrasuede looked super cheap to me, so this sat for a good long time until I found some plain brown rayon at Hancock fabrics.
The crepe was a little sheer, so I did French seams throughout. I kept screwing up and sewing them backwards, but in the end it turned out really great so I'm glad I put in the extra effort. It looks neater and more "finished".
The back isn't perfect, but oh well. I used an invisible zipper for the first time in ages, and I had a little trouble getting it in. The back waistband doesn't match up exactly perfectly, but pretty close. The top of the zipper looks kind of bad and I will eventually have to fix it. For now, my hair covers it so I can wear it a few times until I muster up the desire to fix it.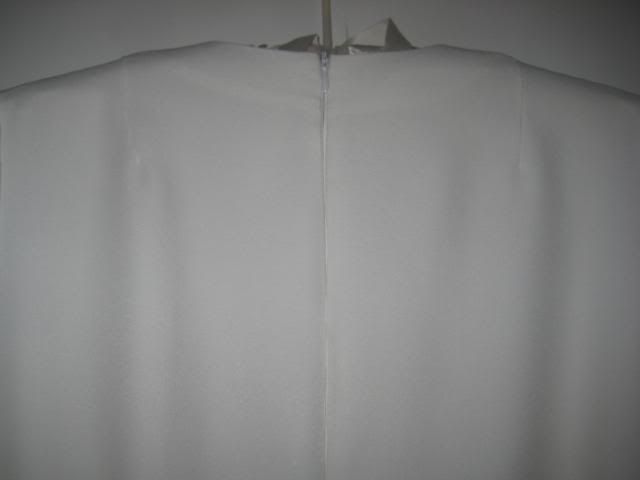 I wore it to work last week! Mike kept calling me Princess Leia. I felt cute in it though and I think it'll become a regular work dress.
I'm impressed with myself for the fact that I 1) made real sleeves 2) they are long enough 3) I can lift my arms.
I just have to try to get my hair as tall as the model's!